Back to Boracay: Your "new normal" travel guide
People cannot wait to be back to Boracay and to witness again its pristine beaches and luscious nature. March to May is the highly anticipated peak season of various Philippine destinations coinciding with the country's summer. However, this year's peak season was thwarted by the ongoing pandemic.
Knowing that Boracay is the poster child of sustainable tourism in the Philippines, the Boracay Inter-Agency Task Force (BIATF) is hard at work in ensuring that the health and safety protocols prescribed by the national government thru the Department of Tourism are strictly followed.
Last June 16, Boracay reopened its shores to visitors from the Western Visayas, which is consisted of six provinces – Aklan, Antique, Capiz, Guimaras, Iloilo and Negros Occidental. Surprisingly, the closure in 2018 has prepared the destination for this and the measures placed are helpful in the island's reopening.
Entry ports
Malay, Aklan is the gateway to Boracay where the Jetty Port is located. Since the BIATF implement "one entrance, one exit" policy, it has become easier to direct and monitor the influx of visitors on the island. Moreover, since there is a daily cap for tourists, there is plenty of space for physical distancing.
Minimum standards primarily prescribed by the DOH are in place at all ports – health declaration, body temperature check, hand sanitation, wearing of protective gear, and physical distancing is part of the "new normal". Moreover, people are encouraged to use digital technology and contactless payment to facilitate transactions.
As all areas in Western Visayas are under an MGCG scenario, travellers are not required to do swab or rapid tests or to quarantine during their stay on the island.
Tourist transport
All local transfers implement "no mask, no boarding" policy where passengers not wearing masks shall not be allowed to board the vehicle. A passenger exhibiting flu-like symptoms shall be immediately transported to a healthcare facility or hospital for further evaluation. There is also a limit on the number of passengers that can board the vehicle to ensure physical distancing, which is facilitated by markings or barriers.
Meanwhile, the transport operator/owner must ensure that drivers are provided with:
facemask (surgical or cloth face mask)
hand sanitizer or at least 70% alcohol
paper towels or tissue paper
appropriate disinfectants
disposable cloths
cleaning agents
gloves
A detailed guideline for tourist land transport services is found here.
Accommodations
The Department of Tourism strictly implements "No DOT certificate, No business operations" policy. Secretary Bernadette Romulo-Puyat advised all accommodation establishments in the country to secure a DOT Certificate of Authority to Operate before going back to business. In Boracay, most, if not all, accommodations are already certified by the DOT when the island was reopening in October 2018.
Minimum health and safety standards prescribed by the health department are implemented in accommodations such as temperature check, hand sanitisers and disinfecting mat in entrances, and physical distancing. Guests are now required to fill out a health declaration form upon check-in.
Hand-shaking is not advised, the practice of Filipino Brand of Service (FBS) or the "Mabuhay Gesture" in greeting and receiving guests, as well as other forms of contactless greeting, is highly encouraged.
Housekeeping staff should be trained in the proper use of disinfectants or sanitizing solutions and provided with appropriate PPE such as face masks, gloves, disposable gown/coverall and closed shoes. The establishment must ensure prompt action to clean rooms after each use of guest/s. It must be a standard procedure to sanitize the rooms right after check-out.
The comprehensive health and safety guidelines for accommodation establishments can be found here.
Restaurants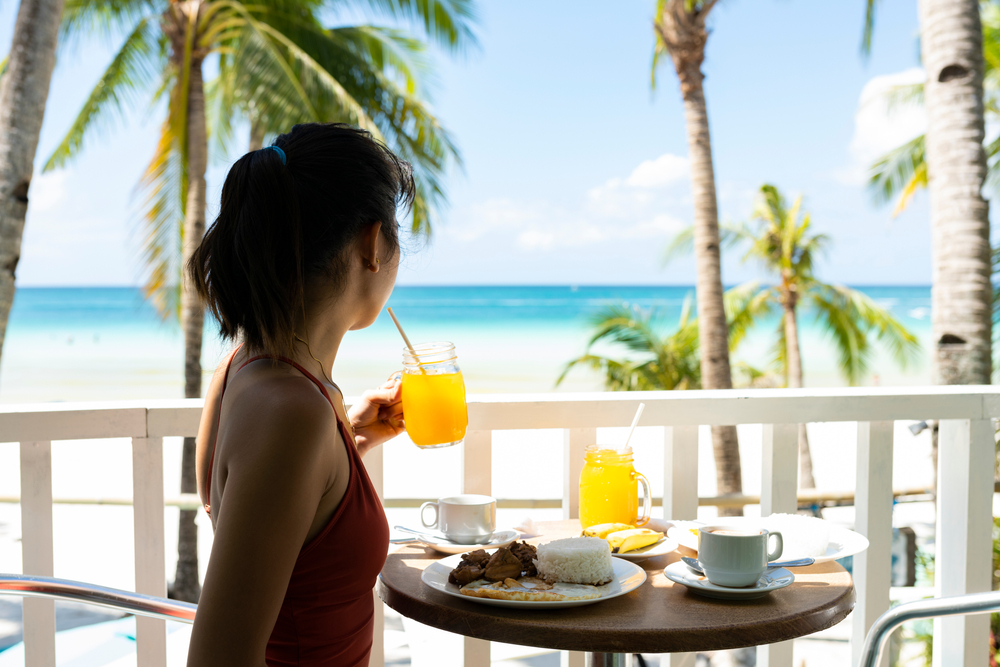 As Boracay is visited by tourists from all over the world, it is home to numerous restaurants offering various cuisines. Minimum health standards should be implemented such as placing alcohol-based hand sanitiser, temperature check, social distancing and placing a disinfecting mat at the entrance of the restaurant. If possible, there should be a designated pick-up or take away zones for customers whose orders are for take-out. Moreover, customers must log their name and contact details for contract tracing purposes. Customers are also encouraged to use contactless payment options.
Self-service stations, buffet service and salad bars are strictly prohibited. Restaurant owners must comply with disinfection, sanitation, and safety protocols that include:
Regular deep cleaning, proper disinfection, and sanitation within the restaurant's premises;
Frequent sanitation and disinfection of high-touch surfaces;
Availability of 70% solution alcohol or alcohol-based hand sanitizer and tissue paper or table napkins;
Employees shall avoid touching with their bare hands ready-to-eat foods, instead, they shall use appropriate utensils such as spatulas, tongs, single use-gloves, or dispensing equipment;
Sufficient ventilation (air conditioning, air ducts, exhaust, fresh air supply) shall be provided to ensure air exchange in different areas of the restaurant.
The detailed protocols are listed here. Failure to comply with these guidelines will incur appropriate fines and penalties, including revocation of its DOT Accreditation.
"The DOT continues to outline plans of action and protocols at every tourist site in the country, particularly, the premier destinations of Palawan, Boracay, Bohol, Davao and Baguio City," Puyat said. DOT ensures that the health and safety measures are followed so we can all go back to Boracay.