Best lodges with hot tubs in Scotland in 2022 – A hand-picked list.
Best Lodges with Hot Tub in Scotland in 2022. A hand-picked list.
If you are looking for the perfect vacation spot for you and your SO, then you should definitely consider Scotland! Aside from being know for having a wide variety of whiskies, Scotland is also home to beautiful sceneries, like the tallest waterfall in the United Kingdom known as the eas a' Chual Aluinn. Of course, Scotland also has a rich and vibrant culture and romantic destinations, couples must visit at least once in their lifetime for their romantic break! And what will complete your most awaited romantic escape? It's staying in one of Scotland's luxury lodges! That is why we provided a hand-picked list of lodges with hot tubs in Scotland to set the mood for an intimated and relaxing evening!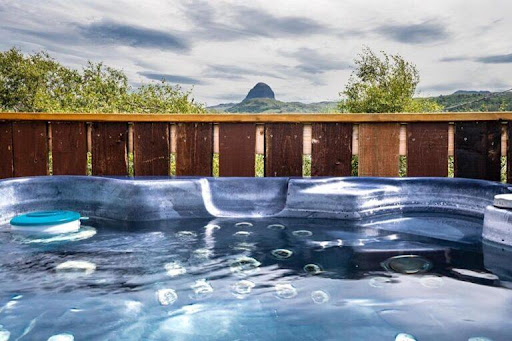 First on the list is The Hideaway. This cabin with hot tub features a garden and a terrace where you can relax and enjoy a good meal, while taking in the scenic surroundings. Free Wi-Fi is available, as well as a flat-screen TV, a washing machine and a well-equipped kitchenette, to make you feel the comforts of home. So if you're looking for a cabin or a lodge with hot tubs, consider booking this place.
The Hideaway, is a great accommodation for those who want a mixture of anything modern and rustic. Pets are also allowed which will make your experience more fun, as you get to travel with your fury little friend. So if you think that this cabin is for you, feel free to check them out.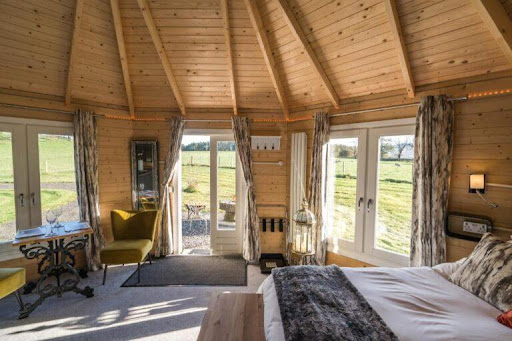 Next we have the Dunroamin Lodges, located in Drymen, that offers a cozy space perfect for you next couple's getaway. This cabin with a private hot tub is also furnished with a patio, a kitchen that includes a microwave, a dining area and a seating area with a flat-screen TV. You can also have a barbecue or simply unwind at their garden, as you sip your favorite morning or afternoon beverage.
Enjoy this beautiful vacation home with your SO, as you unwind and replenish over the weekend. It also makes an excellent place for couples who is celebrating their honeymoon. With picturesque and peaceful view that surrounds the area, this place will surely give you wonderful memories.
Moving on, we have an accommodation with hot tub, that also features an inviting and romantic ambiance. This adults-only cabin is a combination of modern and rustic, perfect to set the mood for an intimate evening. Furnished with a seating area, a dining area and a kitchenette to provide comfort and convenience. Outdoor activities can also be enjoyed like golfing and fishing.
The Kinnaird is one of the Scotland's charming log cabins and is your home away from home. It's a cozy yet romantic lodge that will help you unwind and and have a sweet, intimate moment with your SO and get connected with the beauty of the surrounding. Consider booking this place on your next couple's retreat.
If you are looking for pet-friendly lodges in Scotland, then the Elsay May Luxury Hot Tub Lodges may be the one for you. This cozy cabin with hot tub is furnished with a terrace, a fully-equipped kitchenette with, a fireplace and a seating area. The rustic interiors create the perfect vibe for couples celebrating a special occasion, like their honeymoon or anniversary. Guests can also relax at the on-site garden.
This lodge with hot tub is exclusive for couples, which means the facilities offered are comfortable and can promote intimacy. So if you think that this accommodation is where you want to create wonderful memories with your SO, feel free to check them out. You will not regret celebrating your special and romantic event in this accommodation.
Tucked away in a beautiful location in Aviemore, is a log cabin that boasts a beautiful scenery and can also accommodate pets. The property is furnished with a kitchenette, fitted with a microwave and a fridge, a flat-screen TV, and a seating area with a sofa. To make your experience more convenient, continental and buffet breakfast are served. There's also a playground on-site, just in case you're planning a vacation for the whole family.
This truly is a wonderful place for couples who want to enjoy nature and forget about their life in the city, even if it's just for the weekend. You and your SO deserve a break and get the chance to reminisce, relax and take in the beauty that nature offers. So if you love the outdoors and would like to engage in fun outdoor activities, check out this accommodation.
If you are planning to go on a romantic break, then this next accommodation is something you should consider. The Balhama Lodges and Apartments features an outdoor hot tub. This is also one of the luxury lodges in Scotland that features modern interiors, with an inviting and comforting ambiance. Several outdoor activities can also be enjoyed, like hiking, cycling and canoeing.
So if you enjoy going for a hike, or going cycling or something as fun and exciting as canoeing, then this accommodation is definitely for you. Go on a romantic trip with your SO and explore the beauty that surrounds the Balmaha Lodges and Apartments. Book this accommodation and make new and extraordinary memories.
Feel connected with nature and at the same time have the time of your life with your SO, at the River Beds. This property is the perfect blend of simplicity, romance and sophistication. It's a great place where you get to enjoy your very own personal hot tub, and have the experience you wish for when on vacation. This pet-friendly accommodation is furnished with essential facilities to add convenience to your stay.
What are you waiting for? Pack your bags and get ready for an adventure with your SO and your fur baby! It's not every day you get to spend quality time in a place tucked away in the woods with facilities that offer the comforts of home. A vacation in this wonderful place is all you need to recharge.
Self-catering lodges are great for couples who want to unwind and at the same time have that homey feeling, just like this luxury log cabin. It's a nice space a with garden and sea view, where you get to spend a peaceful and intimate romantic break. A sauna and a hot tub are also featured to promote a more relaxing vibe. The property is also furnished with the essential home amenities like a fully-equipped kitchen, a seating area and a dining area.
Here you will experience a lovely vacation and wake up to a stunning view of the of the on-site garden. This property holds modern amenities great for couples who need a peaceful and romantic break but still want to be in a contemporary and comfortable setting. The area that surrounds the cabin is so beautiful that you may not want to leave.
Are you dying to have a hot tub break somewhere with a luxurious hot tub? Then the Loch Lomond is the cabin for you. Not only does this place have a hot tub, but you also get to experience your own private beach area. The property is furnished with a kitchen, a dining area along with other home equipment like a flat-screen TV, a DVD player, a washing machine. A sun terrace is also on-site and outdoor activities can be enjoyed nearby.
Staying at the Loch Lomond is like never leaving home! The comfort and convenience featured are astounding and will leave you coming back for more. You and your SO deserve a very relaxing vacation and at this accommodation, you just may find what you are looking for. Book this luxury lodge today and have a one-of-a-kind experience.
If modern lodges is what you prefer on your romantic getaway, feel free to check out The Shambles. Experience a relaxing and soothing soak in your own private hot tub, and have the most remarkable hot tub break. The luxurious hot tub offered makes the ambiance more intimate and inviting. The property is furnished with 4 bedrooms, one bathroom and bed linens are made available.
The Shambles is another accommodation in Scotland you can consider when going on a romantic trip, or if you are planning to host a get together. The spacious and modern interiors with a rustic touch is perfect for any occasion. Not to mention, the outdoor hot tub really creates a statement and is a wonderful addition. So, what are you waiting for? Check out this lovely place and book it for your next getaway.
A very unique accommodation that deserves a spot in our list of luxury log cabins. Hot tub holidays is one of the things that keep the fire burning in couples. This accommodation with views of majestic mountains will let you experience what it's like to have your own hot tub. This beautiful holiday home is fitted with one bedroom, two bathrooms, a flat-screen TV, a fully functional kitchenette and a patio.
If you want to try something unique and amazing on your next couple's getaway, then you should definitely consider booking the Sea Beds. Not only does it stand out because of its distinctive architecture, but it's also favored by a number of guests, because of the stunning sea view. Check out this luxury rentals and see for yourself.
Following our list of Scotland lodges with an outdoor hot tub, is just what you deserve when on a romantic getaway. The Knockderry Lodge is one of the private and luxury vacation homes with hot tubs in Scotland. It's the perfect fusion of country and modern living. The entire property is sophisticated and homey at the same time, furnished with two bedrooms, three bathrooms, a fully functional kitchen, a dining area and a patio overlooking a lake view.
The Knockderry Lodge is indeed a gem tucked away in Cove. It's the perfect place for a romantic vacation if you are a nature lover. The property is surrounded by a picturesque view of the majestic mountains and lakes and it will definitely set the mood for a romantic getaway. So if you think this accommodation is for you, feel free to check it out.
The Glenfern Guest House is an ideal accommodation for couples who want to unwind over the weekend. This is one of the log cabins with bubbling hot tubs in Scotland. The property is furnished with rooms with equipped with a flat-screen TV and DVD player, a private bathroom with a hairdryer and complimentary toiletries. And for added convenience, free private parking is available on-site.
If you want something that is simple, intimate, and is comfortable then the Glenfern Guest House is the ideal vacation home for you. It's complete with all the home amenities to make your stay as convenient as possible. Plus, you get to relax in their outdoor hot tub and cap off the evening with a drink or two.
Celebrating a special day with your SO is best when you are tucked away in the beautiful countryside with a stunning scenery. The Boreland Lock Tay is one of the cabins with hot tubs in Scotland. It's a luxury lodge with a outdoor hot tub, that promotes an intimate vibe that will surely keep you and your SO warm during chilly nights. The property is furnished with a patio with garden views, a seating area and a fully functional kitchen.
The Boreland Loch Tay is one of the lodges with hot tubs in Scotland that deserves a second look. This place features sophisticated interiors, combine with a rustic feel. The outdoor hot tub and firepit is perfect for cold evenings and, the majestic view that surrounds the property is something that one should at least see and experience.
This next log cabin is a cozy accommodation that boasts a clean and cozy surrounding, ideal if you wish to spend your romantic vacation away from the busy city life. Hot tub holidays are best spent in a place like this. Here you can unwind and take a relaxing and soothing soak in their private hot tub. You can also feast your eyes on the stunning mountain views while enjoying an afternoon barbecue.
The property is surrounded by beautiful tall trees and of course a stunning mountain, the Kersebrock Kabins is definitely one of the vacation spots you must consider when going on a long vacation, or if you wish to unwind and recharge over the weekend. Don't be fooled by the space because it has everything you need when on vacation.
The Garrison of Inversnaid is next on our list of lodges with hot tub. Accommodations with hot tubs indeed add to the romantic vibe. Set in Loch Lomond, this cabin will give you the opportunity to experience having your own private hot tub, in a stunning Scottish countryside. There are two self-contained studio apartments, fitted with the essential facilities to give guests the comfort and convenience they need.
If you want to experience how cool and fun it is to live in a barn with an open space, then the Garrison of Inversnaid is the perfect place for you. The contained studio apartments were designed perfectly and is ready to take in guests. The outdoor hot tub is something that you should experience as well. Why? because you get to have a relaxing soak while being surrounded by the beauty of nature.
World-class service awaits at this beautiful and rustic cabin lodge in Scotland. This is a 5-star self-catering lodge, with units that are equipped with a functional kitchen, private bathrooms and free private parking. There is also a children's play area on-site, and pets are also welcome in this cabin lodge with hot tub, making this place ideal for the whole family. Grocery delivery are offered and an on-site beauty and spa treatments.
Beautiful inside and out is how we describe the Loch Lomond Luxury Lodges. It's indeed on of the most luxurious cabins in Scotland that features a hot tub and is ideal for couples who want to celebrate a special occasion just like an anniversary or even their honeymoon. The rustic exteriors will leave you in awe, and the modern interiors will give you comfort. Seems like a great deal.
Another pet-friendly and luxury log cabin to get you excited for your next romantic getaway. Cozy and comfortable rooms are offered to cater to every guest's preference. Each unit is equipped with a flat-screen TV, coffee-making facilities and of course, this place is also one of the lodges with hot tubs in Scotland ready to sweep you off your feet. Kids can also tag along and enjoy playing at the play area.
A bed and breakfast has never been this exceptional. From the beautiful exteriors to the cozy and comfortable inside space, the Ewich House B&B, will never disappoint. The clean and inviting bedrooms will make you feel great after a long and fun-filled day, and at night, you can take a soothing soak in their outdoor hot tub. Now if that doesn't sound exciting, we don't know what is.
This accommodation is another charming cabin that boasts a private hot tub perfect for couples who want to have some alone time, while being surrounded by a beautiful view. The Cabin takes on a more modern yet very cozy approach, that will make you feel relaxed and replenish. Here you will find one bedroom with a flat-screen TV and a fully functional kitchen. There are also a garden with a barbecue and hiking and fishing can be enjoyed nearby.
The Cabin is indeed an accommodation that has a lot of personality. It's the ideal space for couples going on a weekend getaway trip. If you are visiting with a kid, not to worry. This accommodation also has a children's playground on-site, and of course a spacious hot tub is available to keep guests relaxed and recharged.
A beautiful holiday home, that features a seating area, equipped with a flat-screen TV, a microwave, a fridge and an oven to offer you a home-away-from-home vibe. This accommodation has modern interiors, and is tucked away in the countryside. Imagine how beautiful the surroundings are. To add more to the romantic atmosphere, a hot tub is available on-site. The property is fitted with a terrace and outdoor activities like hiking can be enjoyed.
One of the best things about the Daisy's Den is their patio that offers a heart stopping view of the sunset. As we know, sunsets can be very romantic and give a happy vibe. This place is truly relaxing and it is tucked away in a beautiful property in Slamannan. Best of all, you can take your fur baby with you and get to experience this exceptional vacation home.
FAQs
What are the activities that can be enjoyed by couples when visiting Scotland?
Scotland has one of the most beautiful nature spots in the world and couples will surely enjoy activities like hiking, cycling, fishing and canoeing. Even though these activities can be enjoyed elsewhere, Scotland on the other hand will give you a different experience.
Which cabin or lodge is best to spend a honeymoon?
For something as special as celebrating your honeymoon, we suggest you check out the Blue Sky Lodges. Atlas & Aurae or the Sea Beds Scotland. These accommodations of course includes a hot tub that overlooks a great and romantic view.
For couples who seek adventure, which cabin will be best?
Several accommodations offer activities that can be enjoyed nearby. But the River Beds is a cabin from our hand-picked list that we think stands out when we talk about adventure-seeking couples.