Best months to visit Spain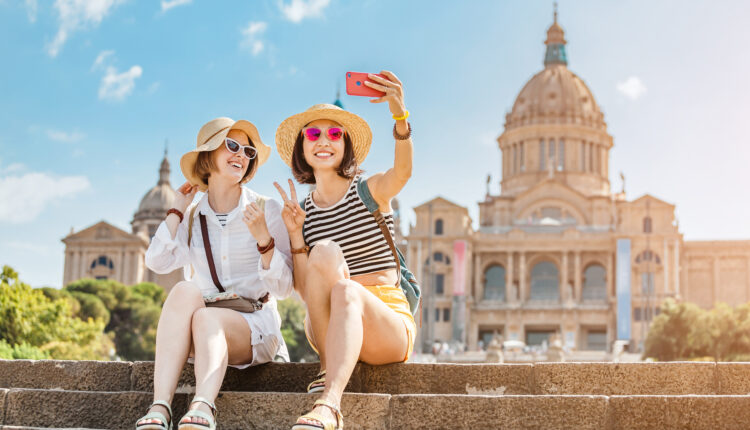 If you're thinking about traveling to Spain, it stands to reason that you want to have the best time possible. Because there is so much to see and do throughout the year, you should be aware of the best time to enjoy whichever aspect entices you the most.
Whether that's Spain's gorgeous beaches, wondrous tourist spots, the variety of Spanish festivals, or whatever attracts you to the country the most, we've got you covered with this short and handy guide to the best months to visit.
For Tourism
The tourism season in Spain is particularly high in July and August. This means that you'll likely encounter higher prices for hotels and other accommodations but it doesn't necessarily mean that you're going to encounter excessively large crowds.
Since this is also the hottest part of the year in Spain, to escape the heat a lot of inland city locals actually head to the coast or actually leave the country for their own vacations. Unfortunately, this means that you may encounter multiple shops that are closed for vacation.
So, if shopping is your main reason for traveling to Spain, you may want to consider another timeframe.
However, if you're interested in splashing in the ocean or visiting the numerous historical sites in the country, July and August may be the perfect time for you to visit.
See a brief guide on traveling to Spain by natvisa.com
A few of the best places you may want to visit in the summer months are:
Granada's Alhambra palaces will take your breath away with its grandeur and contrasting summer landscape.
The Great Mosque of Cordoba is one of the largest Mosques in the world and is a beautiful display of Moorish architecture that shouldn't be missed.
San Lorenzo de El Escorial was once used by the Kings of Spain as a summer home. It was built around 16 courtyards and all over the rooms and additional structures are connected by 16 kilometers of corridors. Making it a work of architecture and history that definitely should be visited in person.
Of course, the list of beautiful destinations ad historic structures in Spain is almost endless and while many of them can be visited any time of year, if these types of locations are on your "must-see" list, you may want to consider visiting in the peak season.
As a last note, if you are going to travel during the peak season and want to avoid higher airfare, try booking your tickets as early as possible.

For Weddings
Getting married in Spain can be an impressively extravagant affair that everyone remembers for the rest of their lives. If you hope to take advantage of gorgeous weather and the beauty of the surrounding landscape, you'll want to plan your wedding accordingly.
In April and May, for example, you'll have beautiful spring weather that should pair nicely with your nuptial ceremony. You may also find that you can save money on lodging and venues for the rehearsal and reception.
September and October are great times to enjoy the cool fall weather and the beautiful fall landscape.
If you decide to have your wedding from late May through August, you'll likely encounter a lot of competition for venues and possibly higher prices for things like florist and hotel blocks for the guests. Furthermore, you'll want to outfit yourself in a wedding dress with short sleeves and ensure that your wedding party has appropriate attire for the warm summer weather.
For Spanish Festivals
Spain is a beautiful country with a beautiful culture and there are numerous festivals throughout the year celebrating this fact. Depending on what you're wanting to enjoy and what part(s) of Spain you plan to visit, you may want to make your travel plans accordingly so you can experience some of these unforgettable festivals.
La Tomatina – The Tomato Fight Festival is famous around the world. This annual festival happens in late August and it started over 70 years ago. Each year, thousands of locals and tourists take to the streets of Buñol and smash and throw tomatoes at each other.
Boloencierro – In June, there is the annual Boloencierro which is the modern-day version of the famous 'Running With The Bulls' festival. Instead of the old tradition of participants running from bulls, they run in front of a giant ball that is 3 meters in diameter and weighs 150 Kg.
Cordoba Patios – This traditional festival happens every year during the first week of May. The owners of the most beautifully adorned and well-maintained patios in the city of Cordoba open them up for public viewing.
Amorevore Food & Arts Festival – In late October, art lovers simply have to see the Amorevore Food & Arts Festival. It brings together world-renowned chefs from around the world and celebrates all forms of talents and skills, including food, music, films, and of course paintings. It's all about creating a community, food, and sharing of knowledge.
La Tamborrada – The Drum Festival happens every year in January and you'll experience large crowds of men, women, and children in the streets, beating drums for a solid 24 hours. It's a sight, and sound, to behold.
For Sports Fishing
Spain might not be the first place you think of for deep sea fishing but if you enjoy the sport, you should definitely consider visiting at various times of the year. In May and June as well as September and October, you can go after schools of Bigeye Tuna. If Dorado (or Mahi Mahi) is something you've always wanted to fish for, visit Barcelona in June and July.
You can also visit Spain in September and December to fish for almost everyone's "white whale," the notorious Bluefish.
No matter what time of year you travel to Spain, there is always a lot to see, do, and experience. Whether you're interested in seeing as much of the historic architecture as you possible can, you're planning the perfect wedding, or you want to experience some of the best festivals in the country, with the tips above you'll know exactly what time of year to visit.