South Australia's Epicurean Way – A road trip with wine, wildlife and wow factor
First time visitors to Australia, as well as clients who have been before but who are looking for something special, will appreciate you including "The Epicurean Way" into their itinerary. Starting and ending in the vineyard city of Adelaide, this circular food and wine tour in South Australia features some of Australia's best wineries and regional restaurants as well as providing opportunities to spot koalas snoozing in trees and kangaroos hopping amongst the vines.
This culinary adventure can be enjoyed over four days but it is recommended that clients linger longer – spending a full week indulging in long vineyard lunches, taking behind the scenes tasting tours with the winemakers, and sleeping over in boutique boltholes and cosy cottages with wonderful winery views. The four wine regions which the route includes each have their own unique personality. Touring with a local guide will provide a break from driving, but more importantly will offer a rich insight into the local area and why South Australian wines are rated amongst the best in the world. As for when to visit, South Australia is blessed with largely warm sunny weather from October through to May. The products and experiences recommended below are largely commissionable.
Adelaide to McLaren Vale
Driving time: 45 minutes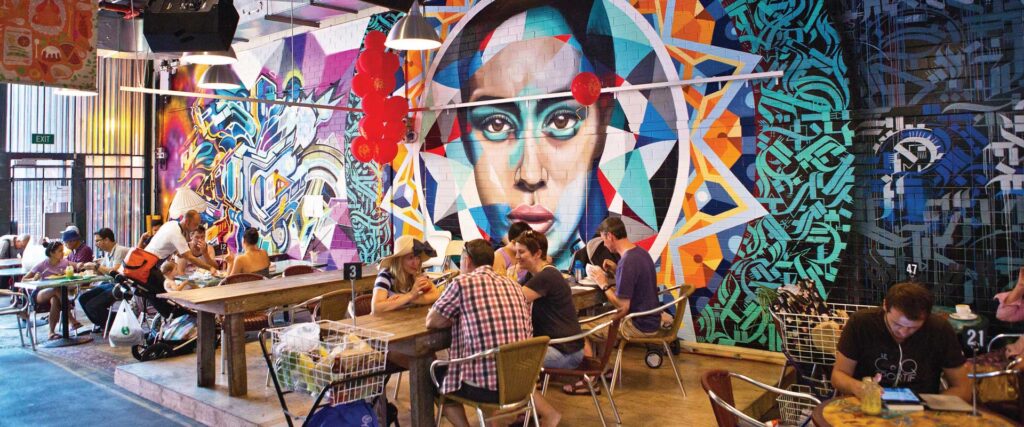 Start this amazing culinary journey in Adelaide – the vineyard city of Australia and one of the world's best boutique cities. Surrounded by 18 world-renowned wine regions, Adelaide is the gateway to South Australia's Epicurean Way. Highly recommended for food lovers is a tour of the city's Central Market by Food Tours Australia where you'll meet stallholders and suppliers and get to sample delicious treats from across the region (especially the cheeses and fresh fish); and dining out in the city's laneway restaurants where innovative chefs hero local produce on their exciting menus. 
Nestled in the foothills of Adelaide and just 15 minutes from the central business district, the Penfolds Magill Estate, which is home of the famous Grange is also worth a visit. Tour the underground tunnels and bluestone cellars to uncover the secrets of this historic site and enjoy a three-course lunch paired with highly-coveted Penfolds' wines.
It's hard to leave this vibrant city but just a 45-minute drive away, you can experience the magical McLaren Vale, where the coast meets the vines. Young winemakers and old-founding families alike champion a sustainable approach to winemaking and the results are remarkable. Award-winning wines which have their own identity are produced in stunningly scenic wineries – some of which are also home to great regional restaurants and lovely accommodation.
Make sure you visit the d'Arenberg Cube, a stunning, futuristic piece of architecture juxtaposed in a field of Mourvèdre vines overlooking the rolling hills of Willunga. The Cube houses a tasting room, a casual eatery, private function areas, all dotted with artworks to stimulate all your senses. Get a bird's eye view of the region aboard a helicopter or a biplane followed by an eight-course food and wine degustation at d'Arry's Verandah Restaurant for an unforgettable experience.
Taste, discover and experience the very best of the McLaren Vale along the McMurtrie Mile that will lead you to the cellar doors at Wirra and Wirra, Hugh Hamilton, Primo Estate, Sabella Vineyards; the gallery at Red Poles; and the McLaren Vale Beer Company. If you happen to be in town on Saturday morning, drop by the first (and still one of the best) farmers market in South Australia, Willunga Farmers Market, on the Town Square.
McLaren Vale to Adelaide Hills
Driving time: 45 minutes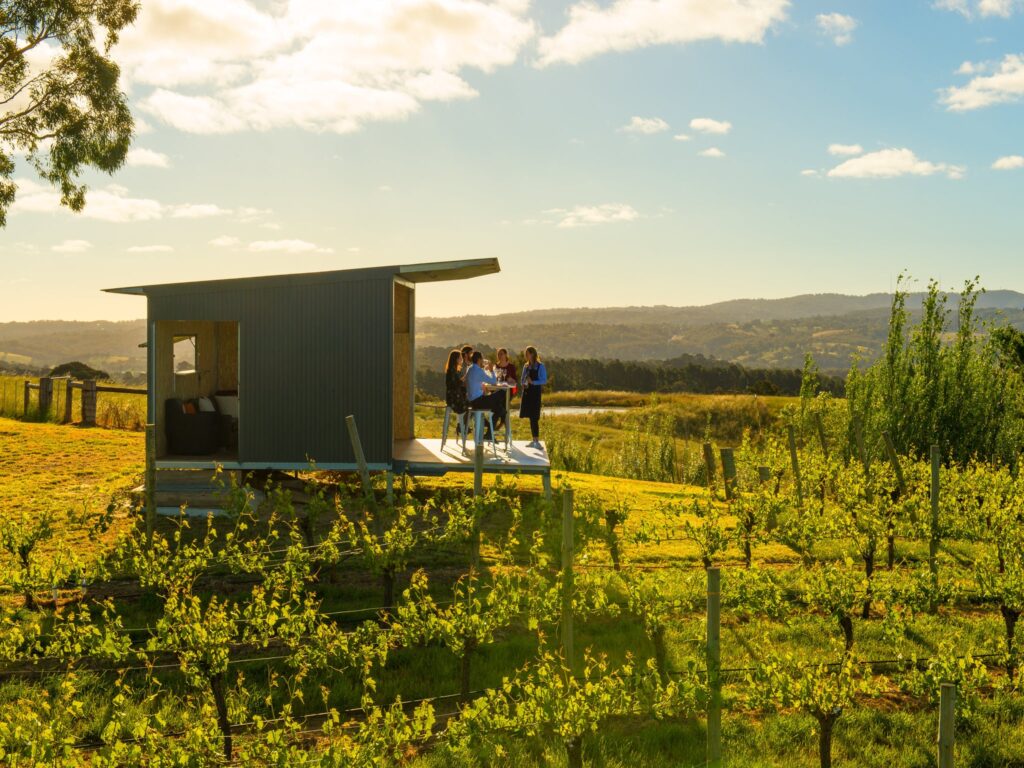 Tickle your palate with flavours from a region known for its cool climate, abundant fresh fruit and vegetables and boutique wineries. Dine at The Lane Vineyard which serves seasonal produce matched with its own delicious wines. Their panorama picnic experience is lots of fun as are Bike About Tours' guided ebike trips through some of the Adelaide Hills' best wineries including The Lane.
For those with a sweet tooth, a must-try in the Hills is Hahndorf Hill Winery's ChocoVino experience that combines two of the best things in the world – wine and chocolate. If that is not enough, there are several chocolatiers in Adelaide Hills, Melba's Chocolates & Confectionery in Woodside, Red Cacao in Stirling, and Chocolate @ No. 5 in Hahndorf.
Charcuterie boards adorned with locally-produced artisan cheeses are a perfect pairing to the region's finest wines. Cheesemaking classes and tastings are offered in Udder Delights in Hahndorf's main street and Woodside Cheese Wrights in Woodside's Heritage Park.
Adelaide Hills to Barossa
Driving time: 50 minutes
A gourmet trip and wine tour in South Australia is not complete without a visit to the Barossa – an international icon known for its exquisite cuisine and fine wines. Enjoy the richness and abundance in the region with various experiences such as wine masterclasses, farmers markets, cooking classes, and blending and tasting tours.
Get an insiders' view and learn the art and science of grape growing and winemaking in the valley at Jacob's Creek or try vintage port from your birth year directly from the barrel in the Taste Your Birth Year tour at Seppeltsfield Winery. Several wineries in the region offer travellers opportunities to blend their own wine, a perfect souvenir to remember your trip.
Make sure to stop by Aussie food legend Maggie Beer's Farm Shop, a food haven full of Barossa's famous produce. There is nothing better than to sit with a well-made coffee using the freshest local beans, and matching it with house-baked brownies or cakes.
Barossa Valley to Clare Valley
Driving time: 1 hour 25 minutes
Blessed with favourable topography and a cool climate, a great range of crops has been lovingly grown, produced and processed in the Clare Valley region, which is just a 1 hour and 25 minute-drive from the Barossa. While the region is famous for its award-winning Rieslings, the Clare Valley also produces world-class reds, including Shiraz and Cabernet. Other varietals include Pinot Grigio, Chardonnay, Semillon, Grenache, Mourvedre, Tempranillo and Malbec.
Hire bicycles and ride along part of the 35-kilometre Riesling Trail following an unused railway line linking several wineries where travellers can pop in en route and open a bottle or two! The Clare Valley is home to around 40 wineries with different approaches to wine production making every visit a truly unique experience. Jesuits from Silesia planted the region's first vines in 1851. Both vines and Jesuits are still producing premium table wines at the same site, now called Sevenhill Cellars and one of South Australia's loveliest estates.
The Epicurean Way will connect your clients with passionate winemakers, chefs and farmers along a touring route rich in history and teeming with local wildlife. Circling back to Adelaide they'll wish they could indeed linger longer!
LEARN MORE ABOUT SOUTH AUSTRALIA