3 nights in Koh Samui and 2 nights in Pattaya catch your interest?? Centara and Cosi Hotels have you covered!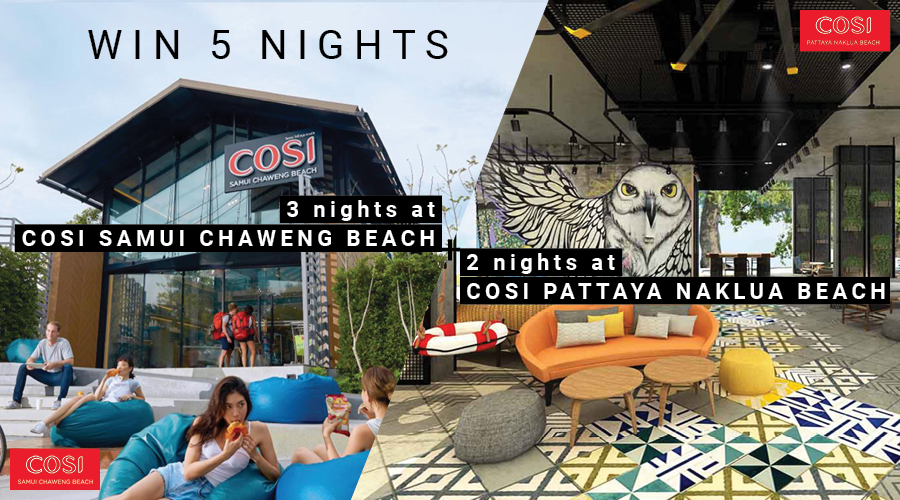 In partnership with TD and Centara Hotels & Resorts, Cosi Samui Chaweng Beach and Cosi Pattaya Naklua Beach was giving you the opportunity to experience the holiday of a lifetime with 3 nights in Koh Samui, and 2 nights in Pattaya.
Just by simply answering 3 simple questions to be in the chance to win!
Cosi Samui Chaweng Beach
A hop away from the fine sand of Chaweng Beach, COSI Samui Chaweng Beach is a fully Smartphone-integrated hotel with mobile and self-check-in, a rooftop pool, free daily credit to redeem for a drink and a bite any time you fancy at the social-hangout-turned-café WYSIWYG, free Wi-Fi, and self-serve laundry.


The rooftop pool is perfect for guilt-free lazy moments and has a see-through side for cool content to share with friends. If you feel like venturing out of the hotel and explore the island, hit up our COSI Crew for recommendation and to get one of our free-to-use GoPro cameras.
Cosi Pattaya Naklua Beach
COSI Pattaya Naklua Beach, a hop away from the beach, is a vibrant and affordable lifestyle hotel that oozes simplicity and style. It's also fully smartphone-integrated which means you can book and check-in on your phone, message hotel staff or beam your content to in-room TVs. Total freedom is in your hands.

At the hotel, the outdoor swimming pool and Social Hub is where you can take chilling to a new level but there's also a fitness centre for those who want to stay in shape.
Once you've enjoyed all the sun, shopping and nightlife Pattaya has to offer, our minimalist, high-tech rooms are the perfect place to get some downtime. USB ports galore, smart TV, mega-comfy bed and power shower – you can be as connected or disconnected to the world as you like.

The outdoor swimming pool is perfect for guilt-free lazy moments and its see-through glass side makes for some great social media moments. If you feel like venturing out of the hotel and exploring the town or local sights, hit up our COSI Crew for insider tips into the very best that Pattaya has to offer.
Enjoy both hotels in the same holiday, or use them as separate trips, this choice is YOURS!
To enter to win this amazing opportunity, all you need to do is answer these 3 simple questions:
How many COSI hotels are there at the moment?
Which COSI hotel has a rooftop pool?
and which COSI hotel is closest to Bangkok?
And the winner is Vivian Chungyooyen from PhuketWonders!
A very big congratulations Vivian from everyone at TD, we know you are in for a real treat!
Terms and conditions
All details must be completed; missing details voids the entry
Entering competition includes a subscription to TD news and promotions
Prize to be won: Win a three night stay at Cosi Samui Chaweng Beach and a two-night stay at Cosi Pattaya Naklua Beach
Competition open from 24 July 2019 until 7 August 2019
Eligible winners will be randomly selected from entries on week of 12 August 2019
Incidentals such as hotels fees, phone, laundry, food & beverage, fitness center, etc. are not included.
Certificate is non-refundable, non-transferable, and not eligible for resale and has no cash value.