February – Bangkok Digital Travel 2020
Glowfish presents "Bangkok Digital Travel 2020", A free travel-industry event that will grant insights into current trends and show powerful tools for tour agencies & venues looking to take advantage of a rising ASEAN travel market.
The event is being held at Glowfish Sathorn on Thursday February 13, 2020. Partners and friends are welcome to attend.  Registration opens at 5pm. Complimentary alcoholic beverages will be served 6pm to 8pm.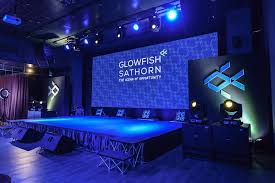 The key-note session "How to accelerate your travel agency with digitization" will be presented by Travel-tech firm Pytheas. Our other speakers will include talks from Asia Pay and Travel daily.
The talks will be followed by an onsite after party featuring 3 international artists
DJ: Viktor Hollow (AU/Bebop),
Rappers: Xpionaj (RUS / SG / VX), 21 Soul Blaze (SG / J Soul Records)Agenda (tbc):
Agenda:
5pm                  Registration
6-7pm               Key note "How to accelerate your travel agency"
– Dalvin Sidhu, Business Development Director
– Max Ng, Associate Director (Asia pay )
7-7.30pm         Panel discussion
7.30-8pm         Photo and Networking
8-10.30pm       After party
Contact us: info@glowfishoffices.com and 02-109-9600
Location: https://g.page/glowfish-sathorn?share