Techsauce Virtual Summit 2020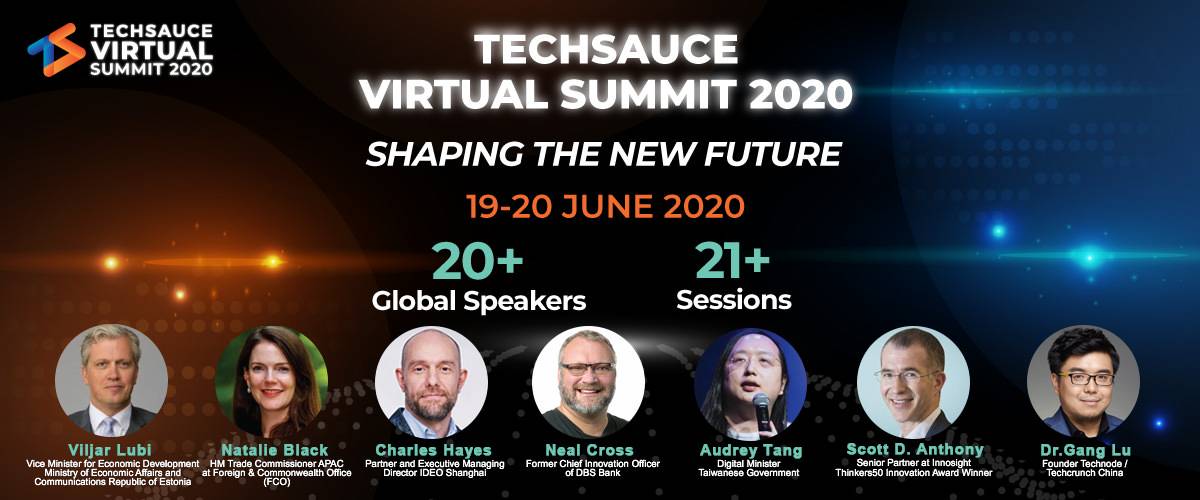 Techsauce Global Summit has today launched a new online conference following the postponement of SE Asia's largest tech event. Techsauce Virtual Summit 2020, a spin-off of the original Techsauce Global Summit, will take place from the 19-20 June.
With Techsauce Global Summit now taking place at Centara Grand at CentralWorld, Bangkok, Thailand from the 5-6th of October due to coronavirus, Techsauce Virtual Summit aims to connect innovators who will share their expertise and insights on what our new future holds. The online event is aimed at SMEs, startups, corporate organizations and private sector workers among others. It will feature over 30 expert global speakers who will take part in 21 sessions across a host of innovative sectors.
Speakers for Techsauce Virtual Summit 2020 so far include:
Audrey Tang (Digital Minister Taiwanese Government)
Neal Cross (Co-founder and Chairman of Picture Wealth, Former Chief Innovator of DBS Bank)
Natalie Black (HM Trade Commissioner APAC at the Foreign and Commonwealth Office, FCO)
Charles Hayes (Partner and Executive Managing Director, IDEO, Shanghai)
Techsauce Virtual Summit 2020 aims to focus on a post-COVID-19 recovery plan, with topics including the SE Asian economy, people and culture, strategy and business models and technology taking centre stage.
Speaking about Techsauce Virtual Summit 2020, Oranuch Lerdsuwankij, co-founder and CEO of Techsauce said: 
"Techsauce Virtual Summit will provide tech companies of all shapes and sizes with unique insight into the future and SE Asia's recovery plan. Although disappointed at having to postpone Techsauce Global Summit until October, we have no doubt our online event will help people learn how best to innovate and create opportunity in the midst of coronavirus. It's the first time we have done this and, with over 30 expert speakers we hope Techsauce Virtual Summit will provide attendees with the knowledge and expertise needed as they try to move forward post COVID-19."
Tickets for Techsauce Virtual Summit are on sale now and can be purchased by clicking here.
For more information please see the Techsauce website https://virtualsummit.techsauce.co/