WTM London – 6-8 November 2023, London UK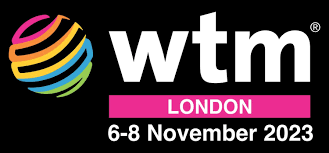 Take your place at the world's most influential travel & tourism event
For 42 years, WTM has been the most powerful and influential 3 days it is possible to have in the travel industry.
The place where ministers meet business to fix plans. Where travel and tourism teams from around the globe meet to build relationships. And where the world's best come to discover and do business. 
Here at WTM, we say travel isn't just a job. It's a mindset.  Because as the world continues to change, we continue to adapt. 
To get stronger, steadier, more agile. Creating new friendships, using new tech and designing new experiences, for new ways of living. And if we truly understand its potential, and we truly use our influence, we can do so much more. 
Because we say travel has the power to expand opportunity, strengthen economies widen employment and create new futures. 
Travel has the power to change the world.  And you have the power to change travel.
For over four decades, World Travel Market has been the home of the world's travel trade. With everything you could need to know and grow in one place, WTM is the easiest, most resourceful way to get networked, saving time, money, and effort on the way.
Can you afford to miss it? Book your tickets now!
Exhibit alongside the world's best travel brands and meet the people who can open the door to the abundant opportunities that lie ahead.
Connect with fellow travel innovators, share your solutions in-person and do business deals that don't happen anywhere else. Ready?