Grade A Tennis and Electrifying Battles at Fitz Club Pattaya as Seniors fight for the ITF Championship
The Thailand World Seniors Championship ITF Grade A was recently held at Fitz Club – Racquets, Health and Fitness. Sponsored by The Aspen Tree by Magnolia Quality Development Corporation Limited, Singha Corporation and Dunlop, the tournament brought together over 200 top Tennis players from over 15 countries all over the world who competed in incredible matches all-throughout the 7-day event.
Fast-paced and entertaining, the heart-stopping matches were competitive and produced top-level tennis. The Grade A tournament is considered the highest category in the Asia Pacific and offers the highest level of elite international competition. Deemed as one of the most prestigious and coveted events on the ITF Seniors circuit held in Thailand, the event organized by Mr. Vitanart Vathanakul, the CEO of Royal Cliff Hotels Group along with Mr. Jiri Cermak and Mr. Daniel Rajsky, the Tournament Directors, helped promote Pattaya and Thailand as an outstanding sports destination especially for Tennis.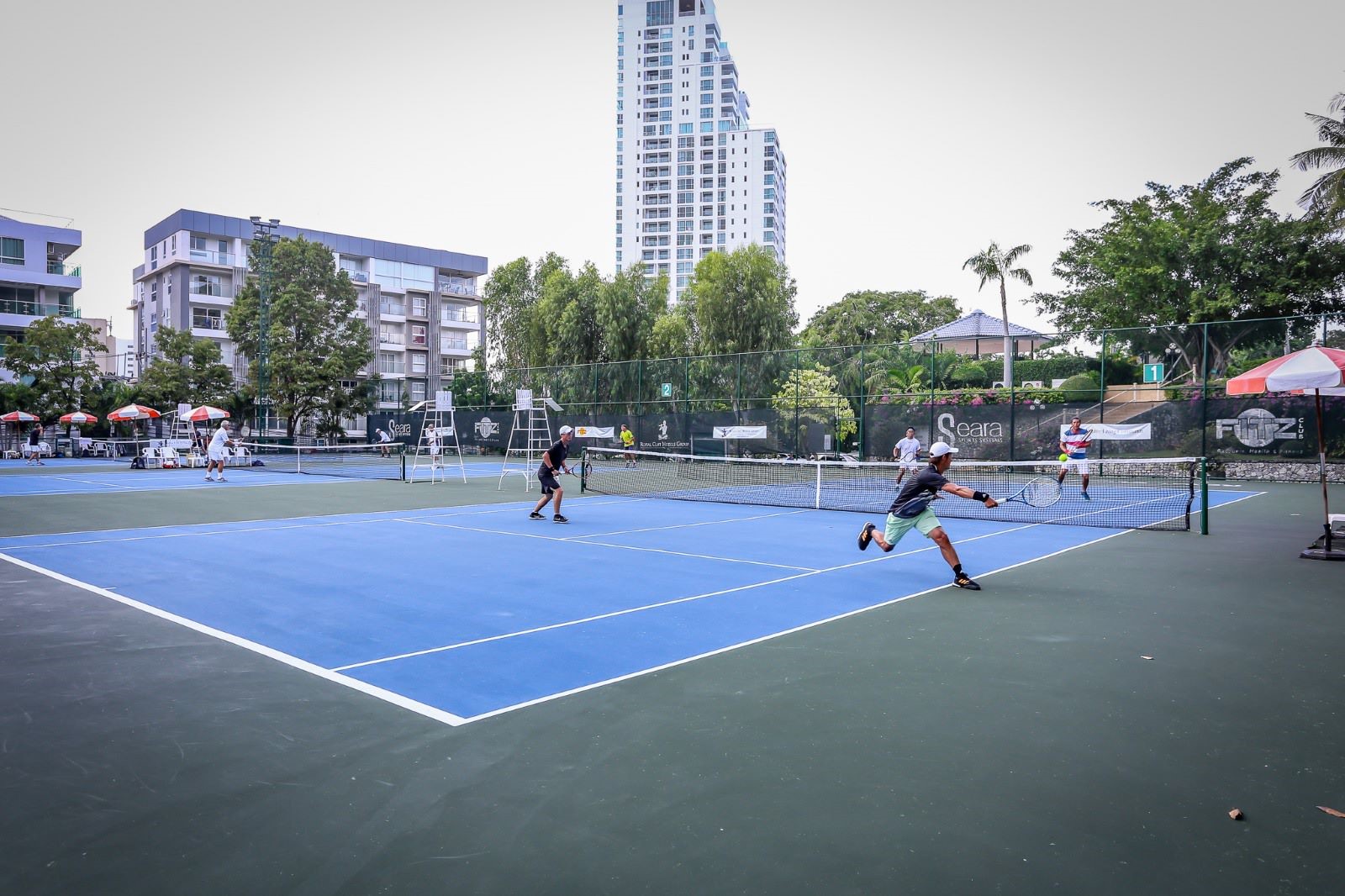 Highlights include a fantastic welcome BBQ dinner party at the Fitz Club swimming pool and a delightful Afternoon Tea sponsored by The Aspen Tree by MQDC which added value to the event.  Strong performance from established players created an action-packed event for all. Though the incredible battles on the courts were the main focus, players and spectators also greatly enjoyed their downtime.  A variety of food and beverage options were served on-site, post-match massages were available and cutting edge sports facilities were provided to workout, unwind or socialize.  Accented by great shots, long rallies and terrific sportsmanship, the level of play was exceptional all-throughout the event and the perfect weather provided the perfect backdrop for the electrifying finals matches on the last day. All players complimented everything about the tournament and many said it is one of the best championships they have been to.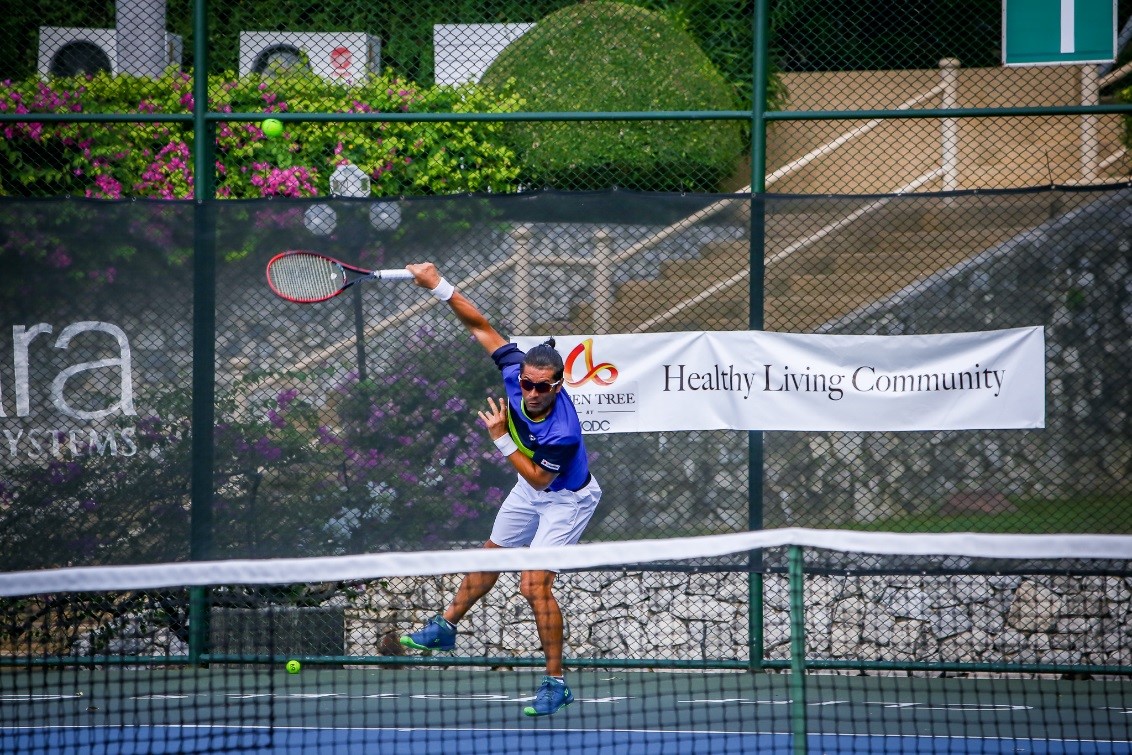 Tournament showstoppers were the epic matches played in the Finals for all categories.  Fan-favourite Mr. Naoki Arimoto from Japan, outmatched Mr. Steven Eckstein of South Africa with his atomic serves to clinch his second victory in the Men's Singles 40+ and also prevailed in his Men's Doubles final this time around. Mr. Masahiro Sato from Japan upset last year's winner Mr. Daniel Rajsky who was overcome by his volleying prowess in a tightly contested match and garnered his first meaningful win in the Men's Singles 45+.  WTA player, Ms. Ding Eckstein of China dominated Ms. Hsin-Yun Wen of Taipei to win the Women's Singles 35+.  Longtime rivals, Mr. Jiri Cermak of the Czech Republic and Mr. Simon Rapoport of Israel, carried out a highly entertaining and explosive match which saw the former emerging as the victor in the Men's Singles 60+. Thailand was also well-represented in this tournament with Ms. Puttaruksa Jantamad and Ms. Arunya Wongkaew who fought their way to win the Women's Doubles 35+ and Mr. Kobchai Tarasena who won the Men's Singles 75+.  Mr. Vitanart Vathanakul, the CEO of Royal Cliff Hotels Group who is also an accomplished Tennis player and a long-time enthusiast of the sport was one of the rising stars who showed a lot of heart in fighting it out to reach the tough semi-finals of the Men's Singles 35+.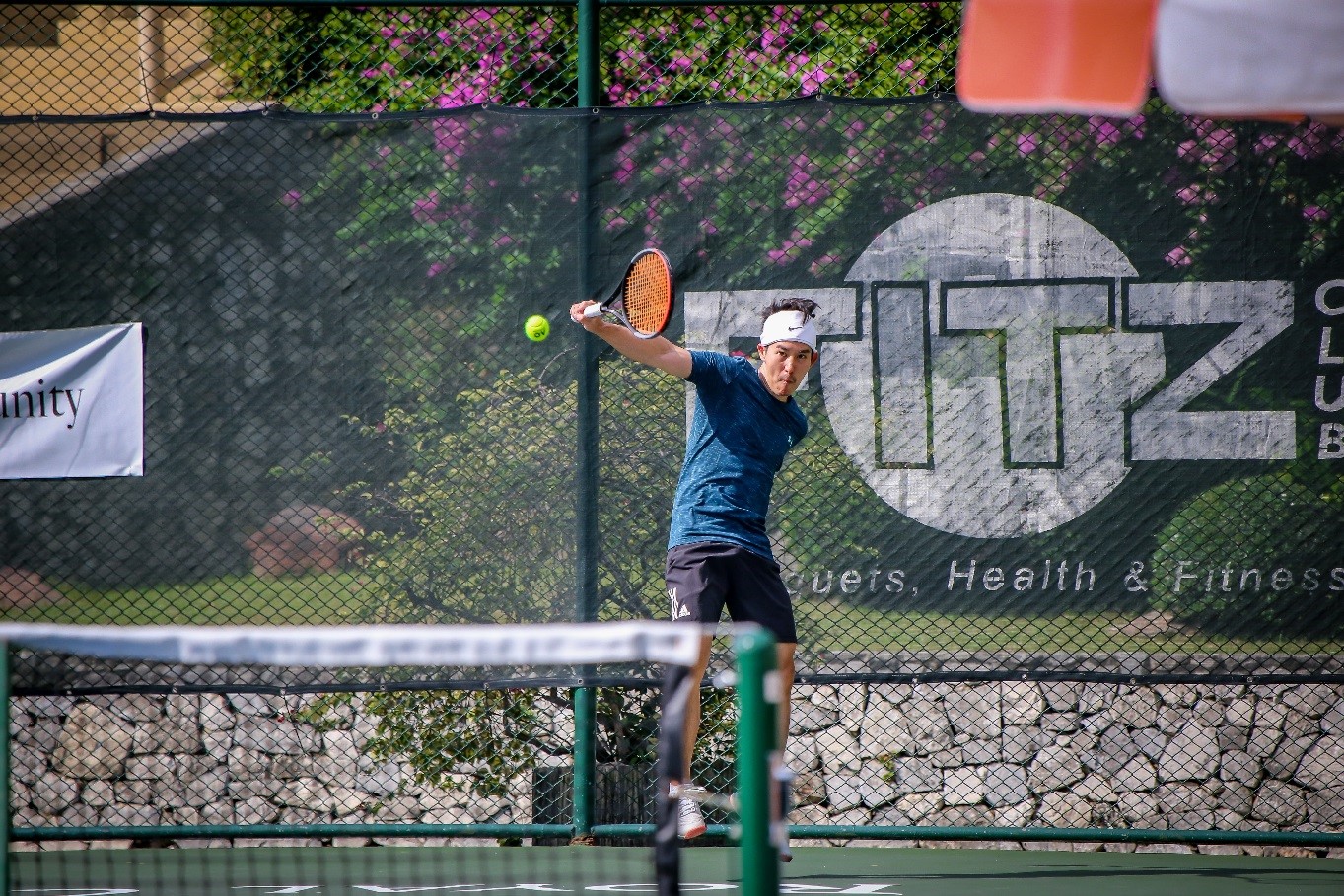 "We are proud to have successfully organized a tournament that brought the highest quality tennis to Thailand.  This incredible event enabled us to create an electrifying battle arena for players from all over the world who share the same passion for the sport.  It was remarkable and humbling to meet top-level athletes who continue to excel and inspire as they grind it out in closely-fought competitive showdowns,'" Mr. Vitanart Vathanakul, the CEO of Royal Cliff Hotels Group said. "I am fortunate to have been able to bring my passion to life and carry on the legacy of my mother who was the first to organize the successful Veterans Tennis championships in Pattaya.  Playing against these incredible competitors who gave all they can on and off the court and who worked so hard to remain in top form was such an inspiring experience and made me feel proud to have reached the semi-finals and represent Thailand. We are truly gratified to have been able to put Pattaya and Thailand on the map as a top Tennis and sports destination and remain committed to creating more elite competition such as this in the future."
  "Fitz Club is Royal Cliff's cutting-edge luxury sports center which has been frequented by top ATP players and sports stars from around the world. It is located in a highly accessible location and has the facilities to hold a world-class event including seating areas for the spectators," Mr. Daniel Rajsky, the co-organizer of the Thailand World Seniors Championship ITF Grade A said. "We have hosted 2 successful ITF events in the past and we have received nothing but excellent feedback from all the participants.  The team also has experience in organizing tournaments and is headed by a CEO, Mr. Vitanart Vathanakul, who is passionate about the sport.  He plays tennis and loves tennis and this is one of the main reasons why we are able to organize this remarkable ITF event in the beautiful luxurious facilities of Royal Cliff in Pattaya, Thailand. "
 The incredible athletes are truly an inspiration to the next generation of players across the tennis world. Participants, fans and spectators of all ages enjoyed competitive world-class tennis and an unforgettable electrifying event.
Chosen once again because of the property's outstanding brand reputation, the Royal Cliff Hotels Group and its luxury sports centre, Fitz Club – Racquets, Health and Fitness is one of the most iconic properties in Pattaya and Thailand. Guests staying at its hotels can expect to experience superior service, amazing amenities, a great culinary experience and sports facilities that are second to none.
Royal Cliff's state of the art fitness center, Fitz Club – Racquets, Health & Fitness has been frequented by top ATP players including Mikhail Youzhny, Denis Istomin and Nikolay Davydenko who has set up camp here frequently. The Tennis courts are of the same standard as the Australian Open so top players choose Fitz Club to get used to the conditions to prepare for the big grand slam tournament. Renowned as the leading luxury sports center in Thailand's Eastern Seaboard region, it is fully equipped with state of the art facilities including excellent cardio machines, 7 floodlit tennis courts, 2 air-conditioned squash courts, swimming pool, table tennis and sauna & steam rooms.
For more information on the Royal Cliff Hotels Group and Fitz Club, please visit www.royalcliff.com and www.facebook.com/fitzclub
About The Aspen Tree
The Aspen Tree is a Thailand-based specialist in services and living communities for older adults dedicated to achieving global best practice. Established by international property developer Magnolia Quality Development Corporation Limited (MQDC), The Aspen Tree has a founding commitment to 'lifetime care' and 'aging in place', giving older adults the security of continued support. Through collaborations with global leaders, The Aspen Tree's 'full-spectrum' services will combine specialist care and lifestyle amenities to provide the highest quality of life along with the finest healthcare. The Aspen Tree's launch community will be at The Forestias, a 119-acre mixed-use development at Bangna in Bangkok, where residents will live amid extensive green spaces in a neighborhood with a multitude of on-site leisure healthcare, retail, work, and cultural facilities.
Under MQDC's commitment 'for all well-being', The Aspen Tree operates with concern for human and environmental well-being. The Aspen Tree also embraces the MQDC principle of 'sustainnovation', applying insights from psychology and other research fields to supply unmet social needs through innovative technology.
About Magnolia Quality Development Corporation Limited (MQDC)
Magnolia Quality Development Corporation Limited (MQDC) is a property developer that develops, invests in, and manages residential, mixed-use, and 'theme' projects, including retail and hotels, with a corporate commitment 'For All Well-Being'. MQDC brands include Magnolias, Whizdom, The Aspen Tree, and Mulberry Grove, catering for a range of healthy, sustainable lifestyles.
The company provides an industry-leading 30-year warranty on its residential units in line with its exceptional construction standards. Under its philosophy of 'sustainnovation' MQDC aims to lead its sector in sustainability. The company supports the Bangkok-based Research & Innovation for Sustainability Center (RISC), Asia's first research base for sustainable building with a focus on well-being. MQDC is determined to operate with concern for all life on Earth, advancing this agenda through sustainable development for the wider benefit of society. For more information, visit www.mqdc.com