Qantas CEO: A380 'perfect' to meet pent-up demand for flying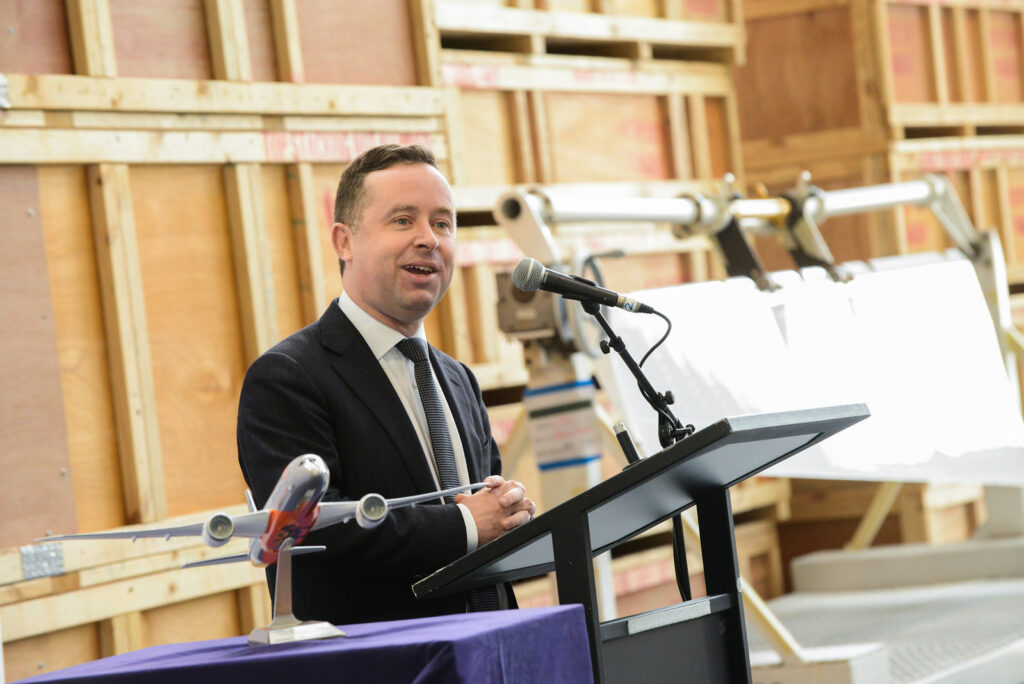 As the Delta variant forces governments around the world to reintroduce coronavirus travel restrictions, global aviation is still struggling to recover from the pandemic.
According to CNN's Richard Quest, Australia is no exception. Sydney has been under lockdown for over two months, and Melbourne has been under lockdown on and off for the past year. Despite this, Qantas CEO Alan Joyce believes that the airline is on the verge of a strong recovery.
Qantas hopes to resume international flights in December and to have half of its superjumbo Airbus A380s back in service by the middle of next year. It also anticipates that domestic business will exceed pre-Covid levels in the first half of 2022.
Prior to this latest outbreak and lockdown, Qantas was holding up with the awakening of domestic traffic, which grew to 70% of pre-pandemic levels before being subdued once more by the Sydney lockdown, which went into effect on June 26. Aside from domestic revenue, Qantas Cargo was most likely the only profitable operational unit throughout the pandemic.
"The domestic market is very big, so there's big states, and intrastate, like western Australia where you have to fly in, fly out for the iron or oil production. That's booming and that's probably nearly 10% bigger than it was pre-Covid. And then through Queensland, another big state, is still strong with a lot of leisure traffic… So, we're not quite back to zero".
"We're at about 30% of our pre-Covid schedule domestically. And we do have freight, and we do have on top of that this loyalty program which generates a billion of dollars in cash a year, so we're doing relatively well compared to a lot of airlines in a similar position" Joyce said.
The lockdown was implemented in Sydney on June 26 and Qantas estimates revenue losses of around AU$1.4 billion for the period of the lockdown. However, there is a significant cost that Qantas has saved by laying off nearly 10,000 people and further saving an additional $1 billion in costs on an ongoing basis.
Joyce is confident that when the country does open up when the borders are fully open, they will be able to produce a large amount of cash and pay off the debt. The market forecast that debt levels will fall to a range by the end of this fiscal year is based on the strong assumption that borders will open before Christmas.
How realistic is Qantas' plan to begin flying to countries with a high percentage of vaccinated citizens and a low risk? Joyce stated that there are still many things to be decided by then, but vaccination uptake in Australia is showing a positive trend, giving hope that the 80 percent target will be met by December.
The quarantine problem at the hotel must be resolved. The hope is that vaccinated people will be able to isolate themselves at home until they receive a negative test. And it may only be to countries with the same level of vaccinations, at least at first. The United States, London, Canada, Singapore, and Tokyo are all present. The Prime Minister and the rest of the government have stated that this appears to be a viable plan, but it remains to be seen how it develops over the next few months.
Despite the high cost and the industry trend towards mid-size double engine aircrafts, Qantas is one of the few airlines in the world that will continue to fly the A380. Joyce stated that continuing to operate the A380 makes a lot of sense because research has shown that there is a lot of pent-up demand in Australia to visit friends or relatives, to take that vacation, and thus the A380 will be the perfect aircraft to meet this demand.
Because slots at major airports such as London Heathrow and Los Angeles International are limited, the A380 assists Qantas in meeting demand.
Qantas will need to be ready for the re-opening and focus on keeping the lights on and not missing the wave that will arrive when borders reopen
Joyce said "We are very ready. The great thing is with all the aircraft activated, we're in a position where we've been training our pilots and cabin crew to be able to get back and be ready. We think once we get to Christmas, we'll be back domestically to over 100% of pre-Covid schedule. Actually, for the second half of the [financial] year, from January to June, we're forecasting 110% so we're bigger domestically. We'll have 70% domestic market share at least; a lot better than we had pre-Covid — that's where we make the bulk of our money.
Our Qantas loyalty program is booming now, we had 200,000 new members during lockdown believe it or not. It's going to get great numbers in the next few years. And then we've got Qantas International and JetStar International, which we think we'll start operating again next year. We've given very ambitious targets which we think we're now even more comfortable to get to in 2024, getting some of the best margins domestically, 18% margins for Qantas domestically, 22% for Jetstar. We think our international business will return its cost to capital and get to a 15% return and we think Qantas loyalty in 2024 will make 5-600 million dollars. We will be back to be one of the most profitable airlines in the world if we meet those targets, one of the strongest airlines in the world.