Silversea Cruises Exclusive Offers On Select Voyages
Guest Writers are not employed, compensated or governed by TD, opinions and statements are from the specific writer directly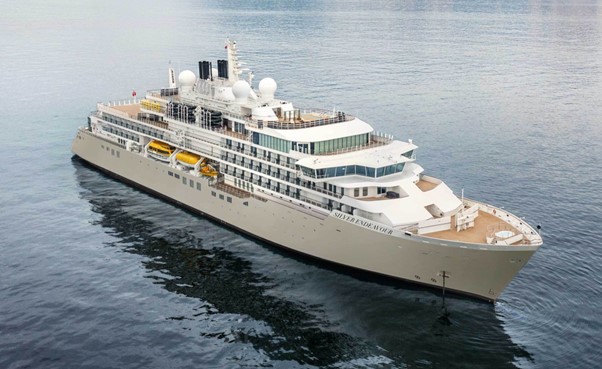 Silversea Cruises, the world's premier ultra-luxury and adventure cruise company, invites travellers to enjoy their wanderlust with its new Suite Upgrades offer.
The promotion is valid for new bookings made until 31 May 2023 and includes special bonuses on select cruises departing before 31 May 2024. This limited-time offer is only valid on door-to-door fares and includes the following:
On select voyages, up to a two-category suite upgrade is available for selected suite categories.
Each suite receives a USD 1,000 shipboard credit.
Furthermore, Silversea's all-inclusive door-to-door fares include a refundable, reduced 15% deposit and a price guarantee, as well as private executive transfers between home and airport, international flights and Business Class upgrades, and in-country air and hotels when required by the itinerary, as well as airport transfers and luggage handling.
Guests can spend their USD 1,000 per suite shipboard credit on spa treatments, speciality restaurants, premium wines and spirits, optional shore excursions (including curated S.A.L.T. experiences to immerse travellers even deeper into each destination and its culture), onboard boutique purchases, laundry services, and other amenities.
"Our new Suite Upgrades promotion is a value-rich offering that will inspire travellers to discover the world with Silversea," said Massimo Brancaleoni, Silversea's S.V.P. Global Sales. "It's the perfect incentive for new-to-Silversea travellers to experience our cruise line's trademark level of all-inclusive comfort, as well as for our Venetian Society guests to enhance their travels." "Whether sailing to iconic destinations such as Alaska, the Mediterranean, Asia, or the Caribbean, or embarking on an expedition cruise to the Polar Regions, the Galapagos Islands, or beyond, there has never been a better time to experience the industry's leading ultra-luxury cruise line's unique offering."
Among the many cruises available through Silversea's Suite Upgrades promotion are the following:
10-days from Tokyo to Tokyo, 21 September – 1 October 2023
On this round-trip sailing, Silver Whisper departs from the dynamic metropolis of Tokyo. It visits the historical traditions and contemporary architecture of Osaka, the shrines and pagodas of Shimonoseki, and the Edo-era structures of Kanazawa. A call at Busan, South Korea, trips to Akita and Hakodate, Japan, and a day at sea round out the adventure.
10-days from Ft. Lauderdale to Barbados, 11 – 21 December 2023
In preparation for the holiday season, Silver Dawn will spend two days at sea before diving into the Spanish-infused culture and cuisine of Puerto Rico, the Dutch and French heritage of St. Maarten, and the tropical beauty of Antigua, Dominica, St. Vincent and the Grenadines, Martinique, and Grenada.
7-day cruise from Vancouver to Seward, 9-16 May 2024
The emphasis of this Silver Nova journey, which departs on 9 May 2024, is Alaska and the Inside Passage. On travels to Ketchikan, Juneau, Skagway, and Sitka, visitors will see breathtaking landscapes, incredible wildlife (including humpback whales, brown bears, and birds of prey), and lovely coastal settlements. In addition, a stop on the Yakutat shore allows you to marvel at the glacial beauty of the Hubbard Glacier.
The 18-day journey from Puerto Williams to Puerto Williams, 31 October – 18 November 2023
The Falkland Islands, home to rockhopper penguins, imperial cormorants, and black-browed albatrosses, and South Georgia, home to massive king penguin colonies and a whaling heritage, are highlights of this Antarctic expedition journey aboard Silver Endeavour. Guests will also see elephant seals, Gentoo, chinstrap, and Adélie penguins, and Ernest Shackleton's memorial on Elephant Island in the South Shetland Islands.
The 14-day journey from Reykjavik to Reykjavik, 18 May – 1 June 2024
This Silver Endeavour voyage to the region of fire and ice includes stunning waterfalls, volcanoes, and glaciers and a stopover at the Faroe Islands, a home for puffins and kittiwakes. Following that, guests will go to the Scottish Islands, where they will spend a week sailing the country's rocky beaches. A day at sea returns the ship to Iceland via Vestmannaeyjar, a nature lover's paradise, and Surtsey, a new island that emerged from the sea in 1963.
7-day journey from San Cristóbal to San Cristóbal, 6-13 January 2024
Guests travelling aboard Galápagos-based Silver Origin spend their days exploring Darwin's "Living Laboratory of Evolution," where they might spot rare giant tortoises, colourful marine iguanas, comical blue-footed boobies, and energetic sea lion pups. Naturalist guides of the highest calibre—one for every ten guests, providing the highest ratio of guides-to-guests in the archipelago—share their knowledge and insights as they lead complimentary excursions ashore.
Guests aboard Silversea's ultra-luxury ships enjoy butler service in every suite type, multiple restaurants providing a variety of cuisines, in-suite 24-hour dining service, wines, spirits, and drinks served throughout the ship, onboard gratuities, and unlimited complimentary Wi-Fi. The cruise line's ocean cruises offer one shore excursion per passenger daily, whereas expedition voyages include all shore excursions.