The new Etihad's business class suites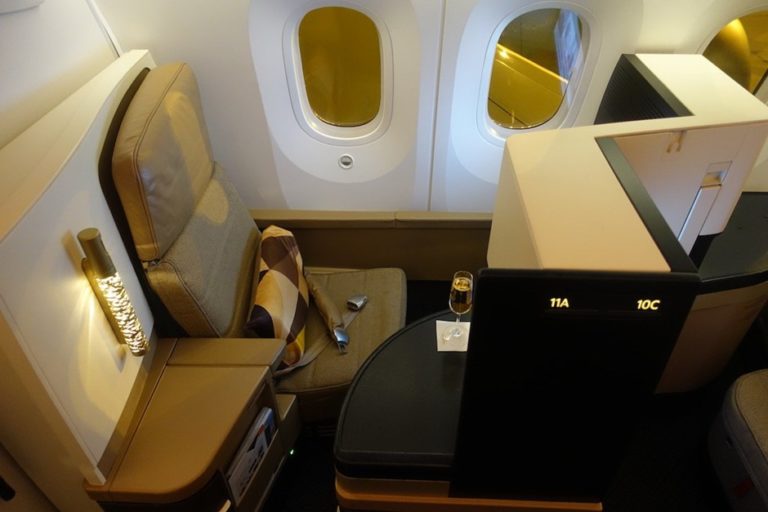 Etihad Airways flew one of its Airbus A350-1000s to the Dubai Airshow to showcase the carrier's new business class product. We now know that the reverse herringbone seats on Etihad Airways' Airbus A350s will have doors:
Collins Aerospace Super Diamond seats with doors identical to those seen on British Airways' A350s and Aeroflot's 777s have been chosen by Etihad. Etihad's A350s will not have first-class; with Etihad retiring its Airbus A380s and Boeing 777s, the only aircraft in the fleet with a first-class will be five Boeing 787-9s, leading me to question whether first class would be phased out in the future.
Etihad's A350s lack premium economy as well; we weren't guaranteed premium economy, but there had been rumours that Etihad may introduce it on the A350.
In the long term, Etihad will employ A350s for long-haul routes, which means that 787s and A350s will form the carrier's long-haul fleet.
While Etihad has yet to issue a press release on the new seats, images of the new product from individuals visiting the jet can be seen on Twitter.
The finishes themselves are stunning, with an elegant colour scheme and some unique features. Reverse herringbone seats are a terrific business class product, and the addition of a door improves them even more.
The Business Studio on Etihad's Boeing 787s is a highly comfortable staggered seating layout.
Back in the day, Etihad Airways had lofty expansion goals and aspired to go head-to-head with Emirates. After a disastrous strategy of investing in worldwide airlines that resulted in billions of dollars in losses, the company's management opted to adopt a more sustainable plan.
The problem is that Etihad had purchased far too many aircraft, much more than was required if the airline did not wish to grow too large. So, even though Etihad has considerably reduced its future aircraft purchases, the airline still has 21 Airbus A350-1000s on order.
The airline began receiving these aircraft in 2019 but placed them straight into storage due to a lack of demand. Etihad seems to be ready to start flying these jets in the coming months. With Etihad retiring both A380s and 777s, there should be enough demand for these aircraft to return to service.
Given that the A350 has a bigger capacity than the 787-9 (Etihad also owns the 787-10, but that aircraft isn't as long-range), I assume it will be used on specific long-haul routes.
Etihad Airways was my favourite airline, with excellent in-flight service, lounges, and transfer options. Unfortunately, after losing billions of dollars trying to overtake its main rival Emirates, all of the qualities that made the airline great took a hit. However, it is clear that the new leadership is reshaping the airline with a completely different focus, and I hope they will regain the status they once had. This is a beautiful business class product, and I'm looking forwards to seeing these aircraft in operation as soon as possible.
The airline has decommissioned its iconic A380s and opted not to have a modest first-class cabin on the A350s. Although this is arguably the best financial choice for the airline, it isn't enough to make us fall in love with its product all over again.