The top cruise lines for romance
Guest Writers are not employed, compensated or governed by TD, opinions and statements are from the specific writer directly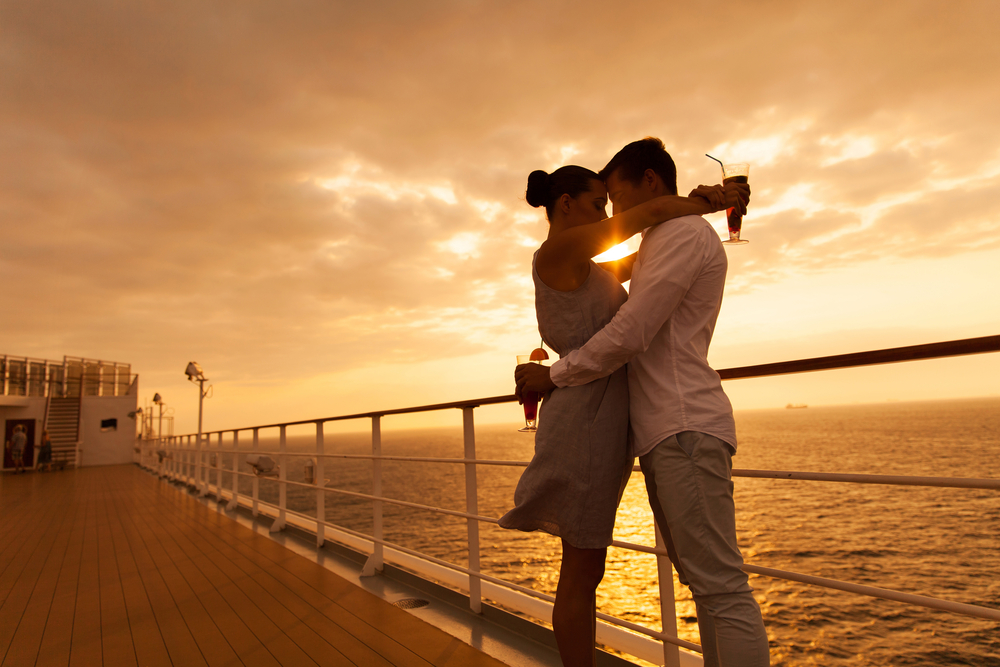 By all means, just about any ocean cruise could qualify as a romantic trip, however…
No matter where an ocean ship takes you, it will get you out onto the open water, where the panoramas are sweeping, the waves are mesmerising, and the sunsets are sublime. What could be more romantic than that?
But there are some cruise lines that specialise in the sort of cruises that take romance at sea to a higher level. You will cruise on ships that exude romance, with incredible amenities like spas with couples treatments, and special balcony dinners for two.
These also are lines that will take you to the ultimate romantic hideaways, such as the warm and breezy volcanic islands and atolls of the South Pacific.
In general, if you are looking for the ultimate in romance at sea, it is recommended that you look at smaller, more intimate vessels, where you will usually find a more personal experience than what you will get on a big ship. Smaller vessels also cater more to couples and draw fewer families with children.
It is also recommended sticking to vessels that offer cabins with private balconies, the bigger the better, in case you want to arrange a romantic private outdoor dinner for two and spacious, luxurious bathrooms.
Ready to start dreaming about a future romantic cruise? These are some of the cruise lines that you need to consider.
Paul Gauguin Cruises
This little one-ship line punches way above its weight when it comes to offering romance at sea. For starters, it operates all its sailings in the South Pacific, which is like Ground Zero for romantic getaways.
And its single vessel, the 332-passenger Paul Gauguin, is all about pampering. Upscale and intimate, the ship offers spacious cabins with a large portion of which have balconies, an expansive spa, three restaurants that cater to couples with lots of tables for two, and the superior service that comes from a high ratio of crew to passengers.
A huge portion of Paul Gauguin's customer base are couples, often on honeymoons or celebrating anniversaries.
Based in Tahiti, Paul Gauguin's single ship offers a mix of itineraries in the region, including a classic seven-night voyage that takes in such iconic South Pacific islands as Huahine, Bora Bora and Moorea.
For more information, visit pgcruises.com or talk to your travel agent.
Star Clippers
Is there anything more romantic than slicing through the sea under the power of the wind alone? That's the big allure of a voyage on the three vessels this small line operates the Royal Clipper, Star Clipper and Star Flyer.
All three of the ships are majestic sailing vessels of a size you probably didn't know still existed. But the crown jewel of the fleet is the 227-passenger Royal Clipper, one of the largest sailing ships built over the past century. Boasting five masts and 42 sails.
Star Clippers is best known for its trips in the Caribbean, where it offers the romance of sailing between many of the region's lesser-visited islands.
For more information, visit star-clipper | Travel Experiences by Adventure World or talk to your travel agent.
Princess Cruises
There is a reason they call this the Love Boat line. Long known for its connection to the famed 80's television show which was filmed on a Princess ship), the Los Angeles-based big-ship operator has made catering to couples celebrating weddings, vow renewals and anniversaries one of its specialties.
The line markets heavily to people marking such milestones with special packages and programs. It's also a huge player in the market for destination weddings at sea, with a division that will help you arrange a ceremony onboard or at an exotic location on land during a port call.
Among little touches, Princess will help you set up a Celebration Registry where friends and family can honour your milestone with contributions to the cost of cruise activities and other items of interest.
For more information, visit Best Sydney Harbour Cruise Deals | Sydney Princess Cruises or talk to your travel agent.
SeaDream Yacht Club
If the romantic idea of sleeping under the stars while sailing in the middle of the ocean stimulates your senses, you want to take a look at this small, two-ship cruise line, which is known for wonderfully intimate, upscale voyages in the Caribbean and Europe.
Among SeaDream's more romantic offerings are the Balinese daybeds located in private nooks atop its yacht-like vessels and offer the chance to spend a night under the stars.
Once you sign up for one of the overnights, the crew will spring into action setting up the daybeds, which are designed for two, with sheets, pillows and blankets. Then they'll disappear to leave you alone with just the stars and the waves as your backdrop.
The two SeaDream vessels, SeaDream 1 and SeaDream 2 are among the smallest and most intimate cruise vessels at sea, with just 56 cabins a piece. They hold up to 112 passengers.
For more information, visit seadream.com or talk to your travel agent.
Windstar Cruises
Windstar Cruises is another line that offers the romance of cruises on sailing ships. And, like Paul Gauguin Cruises, it is also known for romantic getaways in the South Pacific.
A specialist in small-ship cruises, Windstar has six vessels in all, three of which are sailing vessels. Of those, one — the 148-passenger Wind Spirit — is based in the South Pacific year-round, offering a mix of seven- to 18-night sailings out of Tahiti.
Offering an experience distinctly different from the one available on the Paul Gauguin, Wind Spirit harnesses the warm South Pacific trade winds to glide the short distances between such iconic French Polynesian islands as Moorea and Bora Bora. But like Paul Gauguin, it's a magnet for honeymooners and couples celebrating anniversaries and other milestones.
For travellers seeking a romantic getaway, there are few sailings more appealing.
Windstar is planning on sending a second vessel, the motor yacht Star Breeze, to French Polynesia this year. It'll operate in the region from September through March of 2022.
For more information, visit  2020 Best Small Ship Cruise Line | Windstar Cruises or talk to your travel agent.