Virgin Australia unveils new business & economy class seats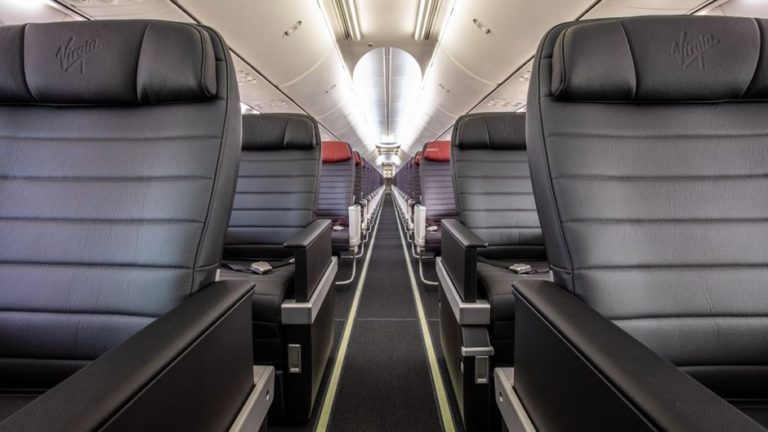 Next-generation business class and economy class seats are being trialled on Virgin Australia's domestic Boeing 737 aircraft, with two planes being outfitted with the new seats to gather input from customers.
In addition to leg rests and footrests, which have long been absent from Virgin's premium seat, the airline claims the prototype business class seat offers an additional seven inches of recline – up to 40 per cent more than the carrier's existing business class.
Also new at the pointy end:
a 'high-power' USB power socket (and no, we don't yet know if this means USB-C or just a USB-A port with extra juice behind it)
added in-seat storage nooks for personal items
'non-slip' cocktail tables
movable tray tables with inbuilt device holders, to make it easier to view BYO content on a phone or tablet during the meal service
Meanwhile, the economy seats will be outfitted with a seatback gadget holder that can accommodate everything from a tiny smartphone to a big tablet.
A designated recess for the safety card and on-board menu frees up extra room in the standard seatback pocket for the passenger's personal stuff.
If you look closely, you'll see an embossed leaf pattern on the headrests, which is a popular design feature in Virgin's airport lounges.
There's also a reintroduction of purple LED lighting from tip to tail, which complements the airline's colour scheme.
According to Virgin Australia Group Chief Customer and Digital Officer Paul Jones, the two refitted Boeing 737s will be available to the public in the coming months — and depending on feedback, they may be considered for future aircraft as the airline expands its fleet.
According to Jones, "Virgin Australia is committed to being a customer-led company, therefore after we receive input from our guests and crew, we will explore incorporating components of the new design into our fleet as our fleet develops."
"We can't wait for guests to see and feel the new interior for themselves if they are privileged enough to travel on one of the two aircraft that have been equipped with the new design at this time."
There is no change to the total seat count, which remains at eight business class seats and 162 economy class seats, all of which have a unique horizontal rib design that "provides customers with additional support and comfort while flying."
Source: Executive Traveller