Qantas reaffirms airline will ban unvaccinated travellers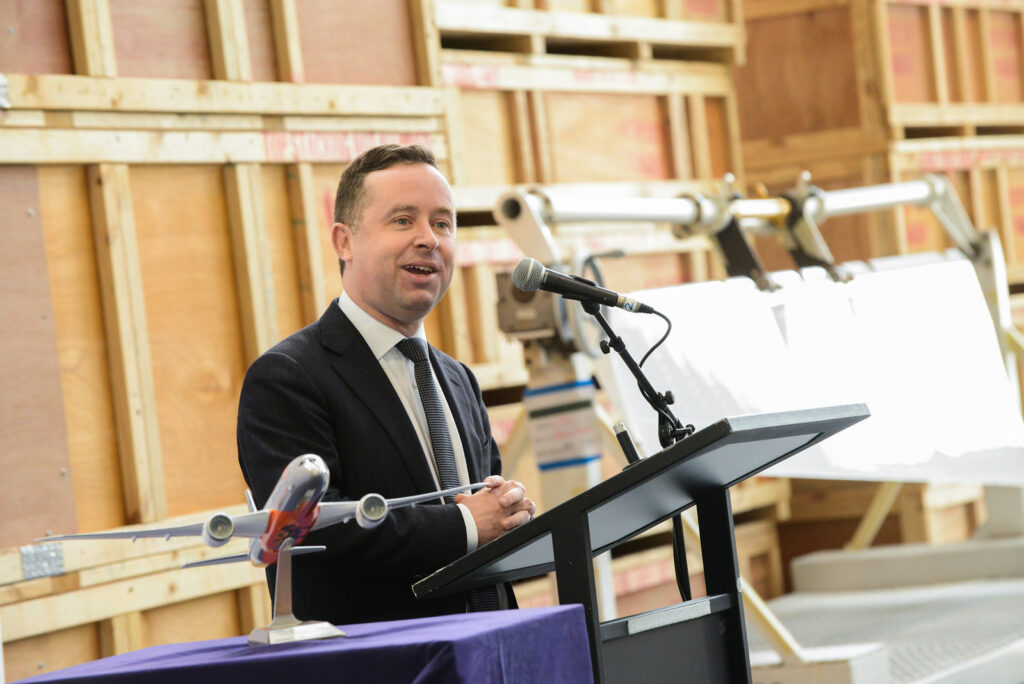 Qantas CEO Alan Joyce has reiterated that unvaccinated passengers will be barred from international flights when borders reopen, which he hopes will be in December.
Mr Joyce told the Trans-Tasman Business Circle in the latest of a series on vaccinations that the airline would implement a policy requiring proof of vaccination before flying.
"Qantas will have a policy that internationally we'll only be carrying vaccinated passengers," he said. "Because we think that's going to be one of the requirements to show that you're flying safe and getting into those countries. We're hoping that can happen by Christmas."
Last year, before Australia's vaccine rollout, began, Mr Joyce warned that passengers would need to be vaccinated to board international flights.
The airline announced last month that vaccinations would be made mandatory for its 22,000 employees, citing a staff survey that found overwhelming support for vaccines.
Qantas and Jetstar will require all frontline employees to be double vaccinated by November 15, and all office employees to be double vaccinated by the end of March. Exemptions for medical reasons will be granted.
"We think everybody should be protecting themselves, but we also have a requirement to protect our colleagues and our passengers. And then there's also a requirement to protect the community," Mr Joyce said, citing the example of Longreach in outback Queensland, which put 100 residents into isolation after a COVID-19-positive cabin crew member flew there.
Qantas launched a vaccination incentive programme, offering fully vaccinated frequent flyer programme members a choice of 1000 frequent flyer points, 15 status credits, or a $20 flight discount voucher (for use with Qantas or Jetstar).
Mr Joyce stated that 300,000 people had already claimed their reward, with 75% opting for the 1000 frequent flyer points. He stated that the airline had already distributed 220 million points.
Virgin Australia has also launched a vaccine incentive competition with a grand prize of 1 million frequent flyer points. Within a day of the competition's launch, the airline reported that 100,000 people had entered. Virgin has also made mandatory vaccinations for its employees.
Mr Joyce stated that borders should be opened once 80% of the population has been vaccinated and that international travel to other highly vaccinated countries such as the UK, US, Canada, Japan, Singapore, and Fiji should resume.
"We'll probably try a lot of new routes internationally, and as certain borders will open up and others won't," he said though he didn't indicate which routes these might be.
He said Australians needed to be able to start travelling again by Christmas.
"The population needs it. I think people want to connect; people want to see family again. People want to do business again. There's a lot of very important reasons why we should start opening up when we meet those key targets on the vaccination plan," he said.
The federal government has announced the creation of a vaccine passport to allow Australians to prove their vaccination status when travelling abroad.
He did, however, take a jab at the governments of Queensland and Western Australia, which have indicated that they may deviate from the national plan for reopening.
"Unfortunately, I think there are one or two states that are taking a more conservative view on that and departing from the national plan. We might get into a situation where from Sydney you can visit your relatives in London, maybe Dublin, but you can't visit your relatives in Perth, or maybe Cairns.
"That'd be sad if we got to that, and hopefully we get everybody to keep to the national plan, the national cabinet plan, which is everybody can get together at Christmas domestically and internationally."
The airline revealed it has seen searches for international flights triple since it announced plans for restarting international flights, with the most popular routes to London, Los Angeles, Singapore, and Tokyo.
Source: Traveller