8 unique South Australian wildlife encounters
Swim with sea lions, brave a shark cage dive, meet cuddly koalas and discover whale watching spots in South Australia.
Contributors are not employed, compensated or governed by TD, opinions and statements are from the contributor directly
It's no secret that South Australia is teeming with magical wildlife experiences. Here, your clients can swim with sea lions, brave a shark cage dive, meet cuddly koalas, discover whale watching spots, hop alongside kangaroos and so much more. 
We know from our own holiday booking habits that the decision to visit a destination is often sparked by the desire to see native species in the wild. That's why we've rounded up eight of the most thrilling South Australia safaris and wildlife experiences – all commissionable – so you can start planning the ultimate nature escape for your clients. These unique Australian wildlife encounters are true bucket-list material.
Get up close with sea lions and Australian wildlife on
Kangaroo Island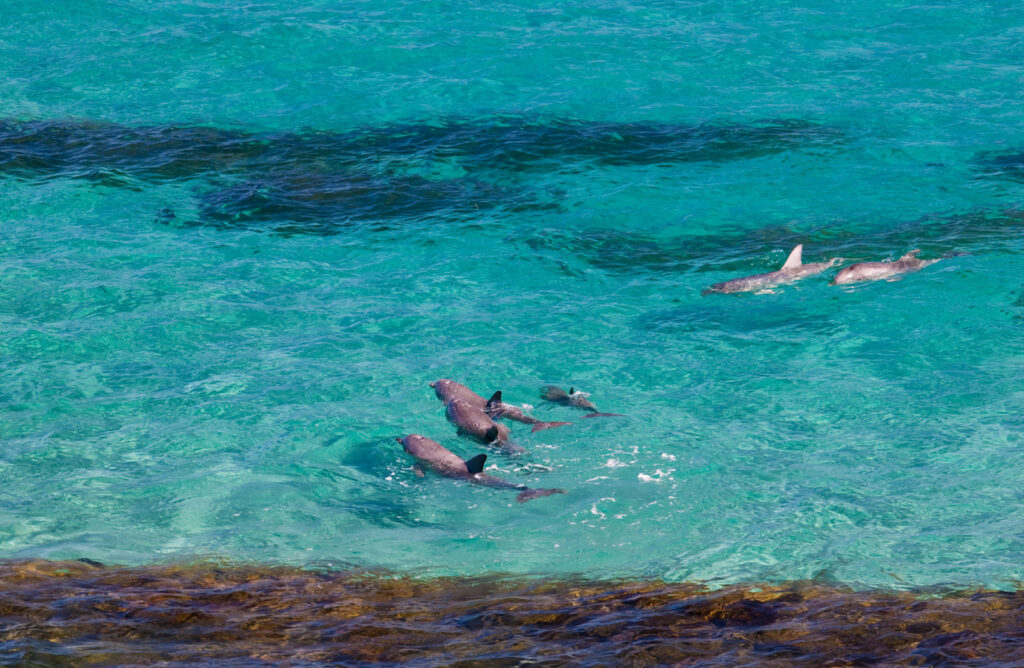 Famed for its abundant native flora and fauna, Kangaroo Island is known as 'nature's playground' – and for good reason. In this rugged wildlife paradise, you'll encounter Australia's big-hitting species without any barriers. Spot wild eagles, kangaroos, koalas and goannas and bask on the rocks with long-nosed fur seals in Flinders Chase National Park or take a beach walk among sea lions in Seal Bay. Get up close and personal with kangaroos, koalas and wombats at Kangaroo Island Wildlife Park. Or, for something truly special, swim with dolphins with KI Marine Adventures. You can even catch a glimpse of shy, spiky, egg-laying echidnas on a bush walk with the world's leading echidna expert, Dr. Peggy Rismiller – bookable via Exceptional Kangaroo Island tours.
Located less than three hours southwest of Adelaide, the 4,409-sqkm Kangaroo Island is accessible even for those with little time to spare. Still need convincing? Here are seven really good reasons to book a trip to Kangaroo Island.
Marvel at Morialta's
koalas
, wildflowers and waterfalls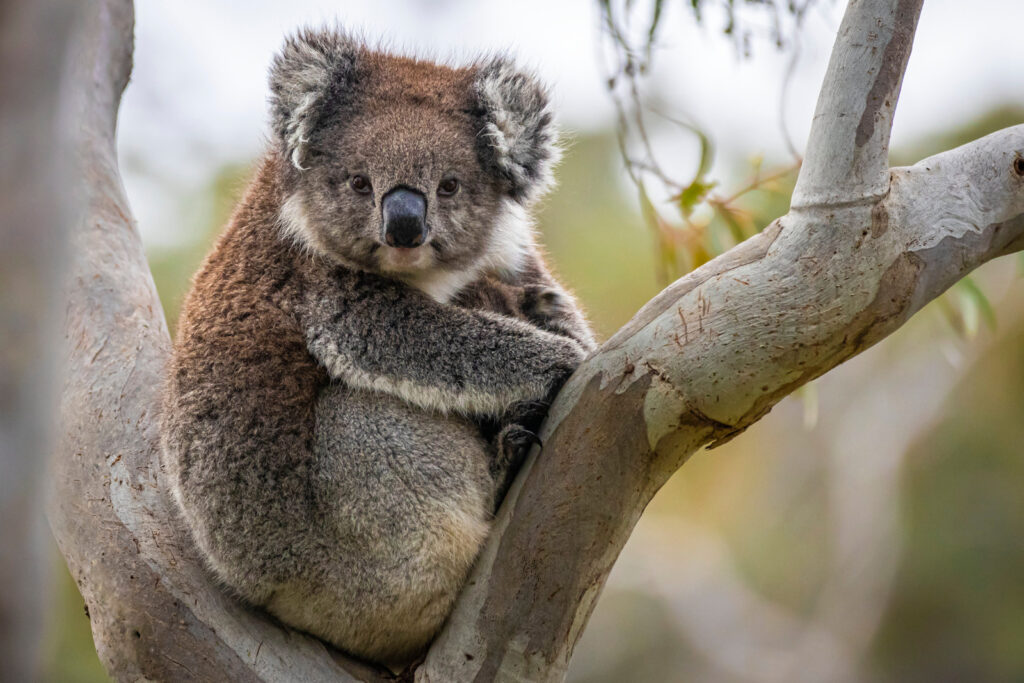 Rugged gorges, cascading waterfalls and unspoiled woodlands characterise the breathtaking Morialta Conservation Park, one of the most accessible wildlife parks in South Australia. Located 20 minutes' drive from Adelaide city centre, this gorgeous conservation area is teeming with unique Australian wildlife. Encounter cackling kookaburras and koalas dozing in the gum trees as eagles soar overhead on a guided wilderness hike with Pure SA. With the waterfalls strongest in winter and the wildflowers blooming in spring, this is the ideal year-round wildlife escape.
Glimpse colourful birds and
wildlife
around Adelaide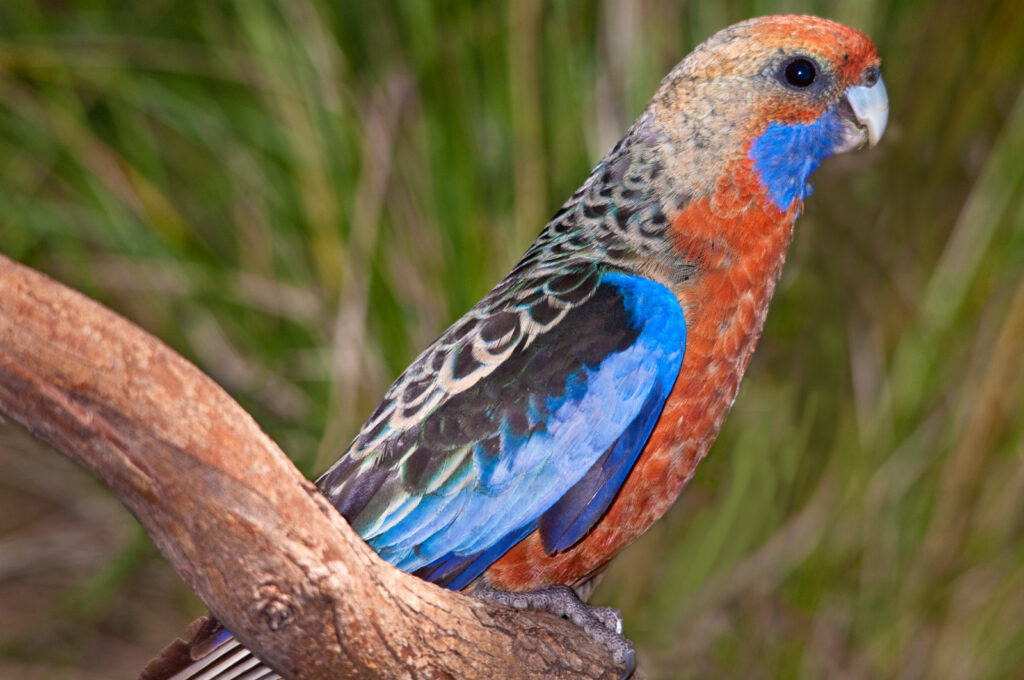 From the wetlands to the deserts, South Australia is home to more than 450 species of birds, making it a paradise for birdwatchers. You don't have to venture far from Adelaide to catch a glimpse of the many-coloured mulga parrot, the vibrant blue white-winged fairywren or the primary-hued Adelaide rosella. Head out on a one- or two-day tour with expert guide Peter Waanders of SA Birding. Having conducted professional birding tours since 2002, he'll unveil the best birdwatching spots, from the Adelaide Hills to the Murray wetlands and the coastal lagoons and dunes of Coorong National Park.
Join rewilding and conservation efforts in Arkaba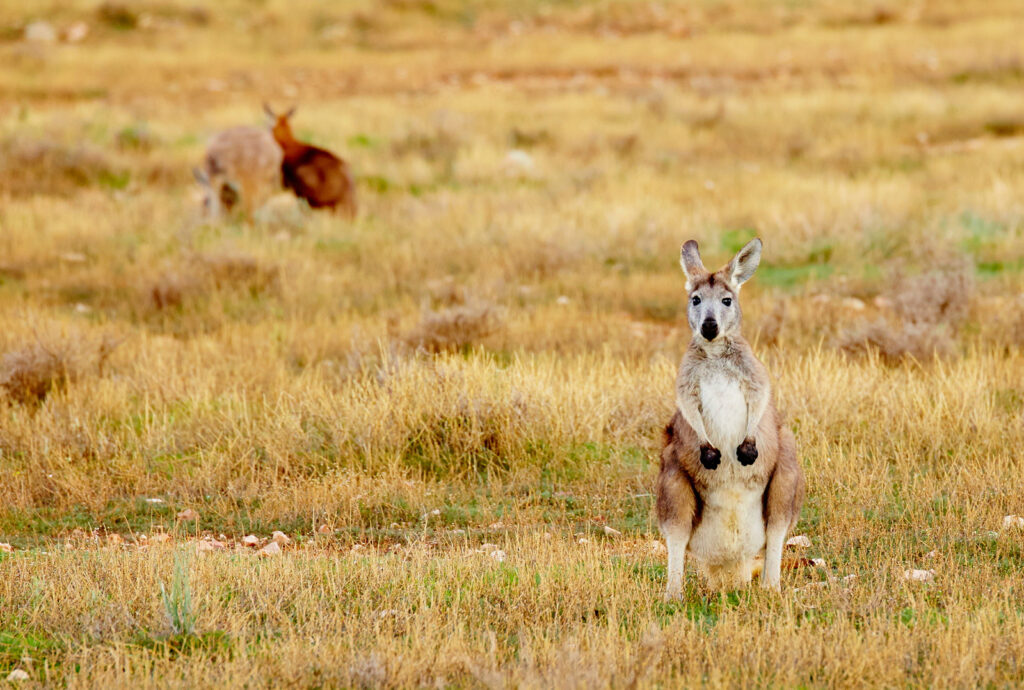 Seeking an immersive South Australia safari? Explore the vast Flinders Ranges outback at Arkaba Conservancy, a 60,000 acre wildlife conserve and luxury homestead. The property is home to an impressive rewilding project that condenses the area's towering rock formations and threatened native vegetation into a mini garden replica. Hands-on conservation activities include tracking feral cats with telemetry devices, setting up the trip cameras to monitor local wildlife and joining a biologist on land surveys. Their conservation efforts have made sightings of Australia's three largest macropods – the red kangaroo, western grey kangaroo and common wallaroo – common, and have seen the return of the threatened yellow-footed rock wallaby. Emus, goannas and wedge-tailed eagles also roam the area.
For more eco-conscious experiences, check out Sustainable South Australia: Inspiring experiences for conscious clients.
Brave a
shark cage dive
in Neptune Islands Conservation Park 
For some it's a lifelong dream, for others their worst nightmare, but there's no denying the thrill of a great white shark cage dive. If you've got nerves of steel, embark on the ultimate marine adventure with Adventure Bay Charters. Set off from Port Lincoln Marina on the Eyre Peninsula – around seven hours' drive from Adelaide – and catch sight of dolphins as you cruise towards Neptune Islands Conservation Park, the home of the great white. Here, you can either swim with sharks in a cage dive or view them from the safe, dry confines of the glass 'Aqua Sub'.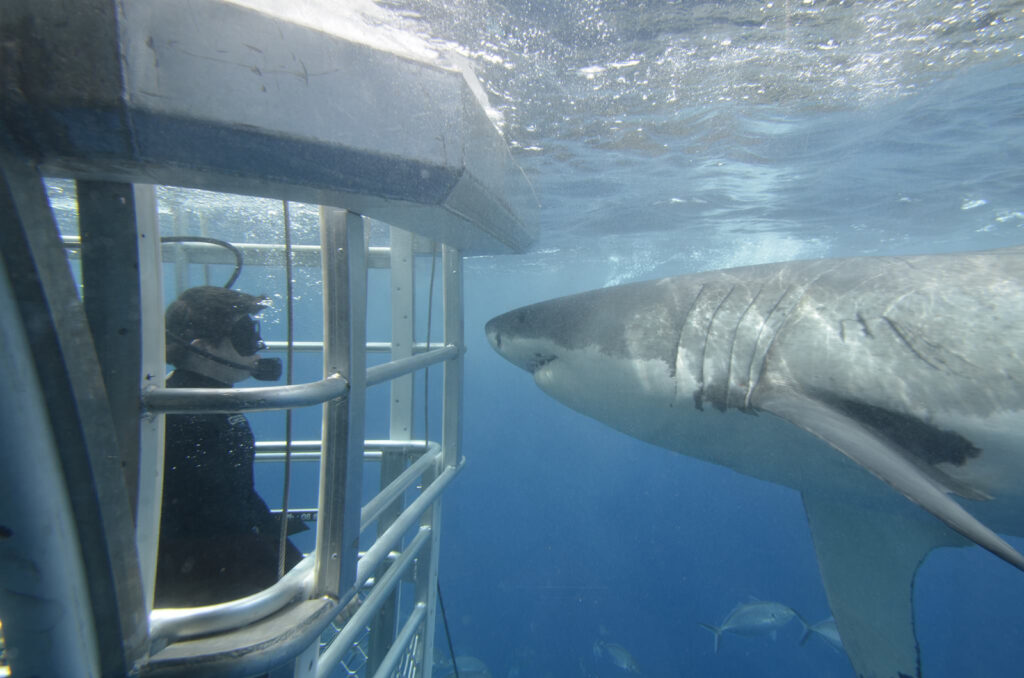 Discover
whale watching spots
on the Eyre Peninsula
Glimpse majestic humpback whales and endangered southern rights as they frolic in the Great Australian Bight. In winter, these majestic creatures venture into the shallow waters to give birth and rear their young. Encounter them on a wildlife tour with Australian Coastal Safaris, who'll drop a hydrophone overboard so you can catch the sound of humpbacks reverberating beneath the ocean. With the dramatic cliffs of the Eyre Peninsula as a backdrop, you can also get up close with dolphins, sea lions, fur seals, penguins, white-bellied sea eagles and some rare species of albatross. 
Xplore Eyre can also introduce you to whale watching spots on small-group tours that include accommodation and the one-and-a-half hour flight from Adelaide to Ceduna on the Eyre Peninsula. Check out some more of the best spots for watching whales in Australia here.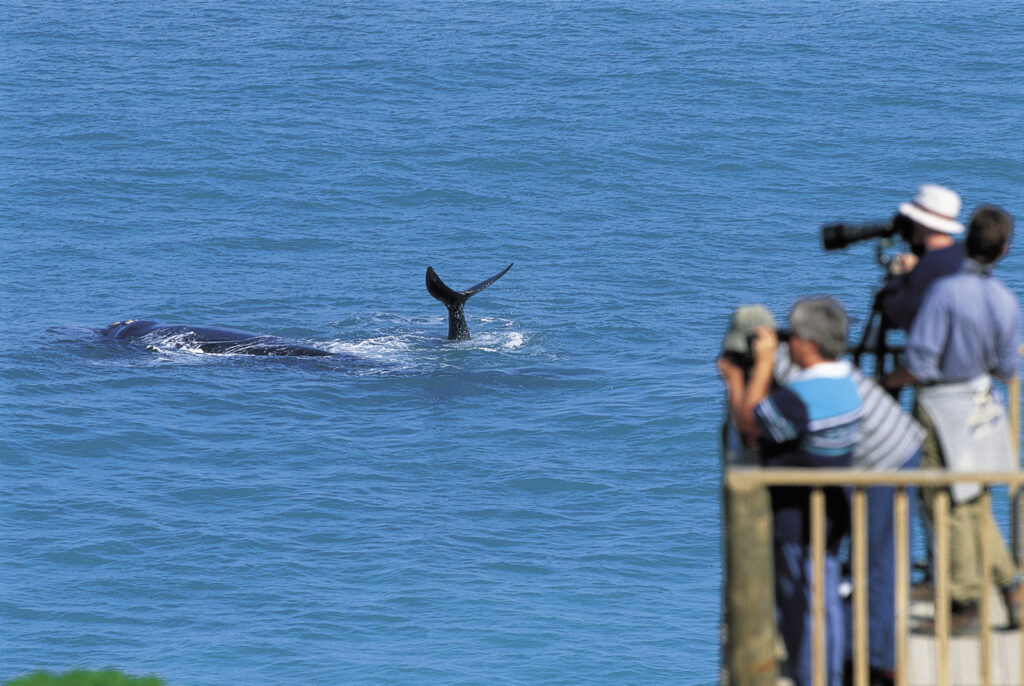 Take a multi-day
wildlife
trek along the Murray River
Traverse wetlands and riverine forests along Australia's longest river. Flowing over 2,500 km, the Murray River is best explored by foot and houseboat. Teeming with over 180 endemic species of bird, the River Murray is also home to koalas, possums and kangaroos. For a unique South Australia safari experience starting in Renmark – a three-hour drive from Adelaide – book the Murray River Safari with Murray River Trails. 
Just 90 minutes south of Adelaide, you can explore where the Murray meets the ocean with Southern Ocean Walk. Starting at Cape Jervis, the entry-point to the iconic Heysen Trail, follow the shoreline of the Fleurieu Peninsula where you'll spot everything from kangaroos to dolphins.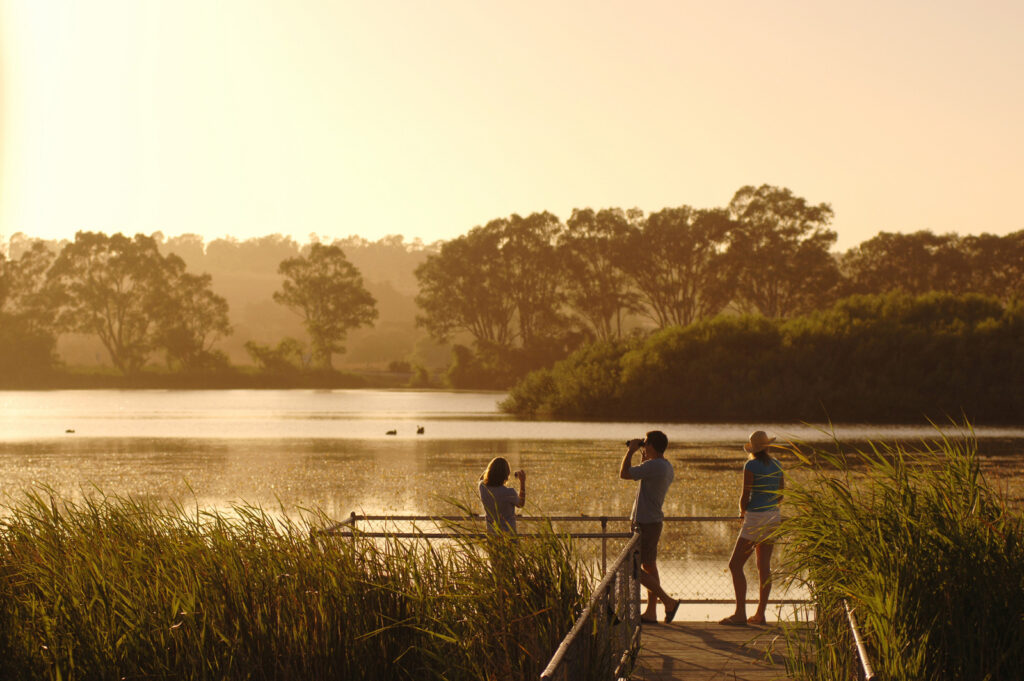 Experience it all around with Gawler Ranges Wilderness Safaris
 in South Australia 
If you're the indecisive type, leave it to Gawler Ranges Wilderness Safaris to tick all your boxes. Starting at the tranquil Mikkira Station Koala Sanctuary near Port Lincoln, spy koalas lounging in the bush as wild kangaroos and emus roam among the gum trees. After resting your head deep in the outback wilderness at Kangaluna Camp, follow animal tracks along the red dunes that surround Lake Gairdner's glistening white salt pan. Amid the volcanic rock formations of Gawler Ranges National Park, encounter three large species of kangaroo and the rare crimson mallee before drifting over to Baird Bay to swim with sea lions and dolphins in the wild.
Immerse yourself in
unique Australian wildlife
Although Australia's borders remain closed for now, the South Australian tourism industry is looking forward to welcoming back international visitors when the time is right. If your clients are keen to encounter unique Australian wildlife, there is no better place than South Australia. Learn more about this diverse state here.